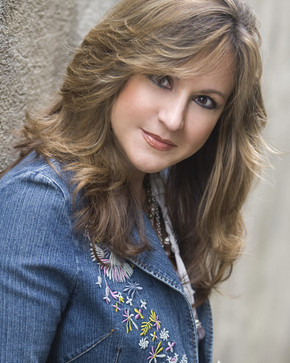 The state of New Jersey has been home to many talented recording artists like Bruce Springsteen, Bon Jovi, Frank Sinatra, Richie Sambora and many others. Their music has touched many worldwide and has influenced up and coming artist. One such up and coming artist had the pleasure of meeting one of her inspirations. Lisa Coppola the young artist was at her voice teacher's class in Manhattan when Bon Jovi was leaving and she was entering. Since then she has honed her skills and built on her love of music.Lisa was always drawn to music and made it her goal to follow her dream. From the age of 16 she has channeled her energies to learn as much as possible about the music industry. She has managed to not only release her own music but has had the honor of backing and opening for major acts. Lisa released her first album in 2001 entitled "A Rose By Any Other Name" (Any Other Name Records). She was the lead singer and songwriter on the album. The album saw some success but she was not stopping there.
The album was awarded $2,500 from the B.E.A.M. (Benefiting Emerging Artists in Music program) which was sponsored by Jim Beam Bourbon. Her style of music has been coined Country Rock by many fans.
"I was brought up on both Country and Rock and sometimes my original music is a hybrid of the two.   I appreciate the exceptional songwriting in Country today, but there is nothing more fun to me than singing my lungs out to a great Rock song.   I think they categorize me as "New Country".
One of Lisa's major accomplishments was when she co-wrote the song "You Were Mine" with Mike Walsh. His album titled after his band "Departure" sold over 40,000 copies in the UK and Japan combined. She went ahead and opened for some major stars.
Her first taste of it came when she opened as a solo artist at the PNC Banks Arts Center in New Jersey. She opened for the Smothers Brothers to a packed audience. Then there was the "Southern Rock Festival" where she opened for the famous Charlie Daniels Band in North Jersey.
"I was performing with Vinnie Talarico who I had performed with a multitude of times before.   It was oddly comfortable. As for opening for Charlie Daniels, it was a lot of fun — an outdoor festival in North Jersey. I actually had Mark Conklin on guitar at that show!"
The success with these performances led her to open for legends like Billy Joel, Pat Dinizio of the Smithereens, Marshall Crenshaw, John Eddie, Glen Burtnik, and Mitch Malloy. For Billy Joel she appeared with him on NBC's "Saturday Night Live" and on his video "All About Soul". She continues to perform at major events throughout the New York metropolitan area and the Garden State; opening the show with the young finalists of "New Hope Idol", Hambletonian Day at Meadowlands Racetrack and the recurrent New Jersey's Official Memorial Day and Veterans Day Ceremonies at the Brigadier General William C. Doyle Veterans Memorial Cemetery, among them.
"When I first started I was just out there trying to make contacts and sing at anything and everything I could.   I met Billy Joel's vocal arranger through my former husband.   I met that former husband when my band was interviewing potential producers.   I bumped into Pat Dinizio originally in a health food store, then the Post Office, then the liquor store when I lived in the same town as him.   LOL, apparently fate was at work.   I got to sing with Marshall Crenshaw, John Eddie and Mitch Malloy through Glen Burtnik.   I met Glen when my band opened for him at Seton Hall University when I was fresh out of High School."
At first she was focused on being a solo artist but she joined forces with another recording artist John Zonars. They formed the band BROAD and released the album titled "BROAD: HUMAN CONFLICT".   The album did well and as they managed to land record distribution deals in the territories of Germany, Austria, and Switzerland through Hamburg, Germany's ArtBeat Records label and BMG/ARIS. The album was also distributed in Portugal through Fabrica/Movieplay Records.
The band went on to complete media / concert tour in Germany which was well received. In turn, BROAD went ahead and established itself as being a sought after act on the New York club circuit. They had regular shows at iconic spots like Brownies, A / K / A, Spiral, The Bitter End and at the World Cup Tournament at Giants Stadium.
"John was the musical coordinator for Saturday Night Live and we struck up a conversation backstage because he liked my shoes!   I went to see him do his solo set a couple weeks later and in the blink of an eye we formed a fabulous band. Ultimately we got signed in some European territories including major distribution and toured overseas for a short time.   John now lives in LA so no, we are no longer active.   What a great songwriter he is, though."
Recently, Lisa has completed a new album entitled "Wisdom from the Pain," named for the beautiful song co-written by Lisa, Mark Conklin and Anthony Krizan (formerly of the Spin Doctors). The album is considered a Contemporary Country Rock album and features two tracks co-written by Krizan and star singer / songwriter John Waite. One of the two tracks he co-wrote "When You Were Mine" was featured on the official European John Waite fan site. Soon Mark and Lisa will be judges for an upcoming contest called NJ Idol which will be held at the Watchung Arts Center in March.    
She also heads Kitty Glitter, an all-female rock band.   They recently did a piece with Lauren Collier for her show called "Pet Talk" on Stamford, CT's Channel 12. It got nominated for an Emmy, no less.
In the wings is an upcoming CD release that she co-wrote and produced with indie superstar John Taglieri (Queens of Heart Band). Lisa was and still is a member of New Jersey's "Party Dolls" (who do shows for the St. Jude Foundation) and is also a regular co-host on the The Late Night With Johnny P Show, a rock and roll music variety show on New York Time Warner Cable and Verizon Fios. Lisa is always on the move and has her goals set on one day appearing on X- Factor. But most of all she would love to do what she does best making music.
by Nick Christophers – fellas45@gmail.com