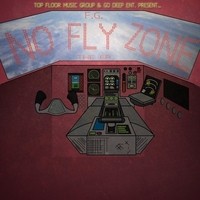 The indie hip hop world is moving fast, and it's an exciting time to be a fan of the genre. With upstarts like ASAP Rocky becoming household names after mixtape success, there's the sense that just about anything can happen. It's because of this that indie releases are being given more respect than ever before, and for good reason. You never know who will be on top next.
F.G. is a 24 year old Brooklyn rapper who has been busy as of late, with the mixtape "Welcome to the Payback" already under her belt, she has just dropped her brand new EP entitled "No Fly Zone".   Appropriately, we are told to fasten our seatbelts and "turn our headphones up to the highest volume humanly possible" in a totally appropriate introduction. When F.G. starts spitting, it's evident immediately that she has both presence and control on the mic. "My lethal weapon is my pen. Inventiveness will never end. Other MC's I offend cuz I don't want to make no friends" she blurts out on the 2nd standout verse of the track. F.G.'s singer's accent' is original, and she doesn't seem to be borrowing heavily from any other rapper. No Nicki Minaj or M.I.A ripoffs in sight.
[youtube 3aXp8h4TyWE nolink]
"Wheels Up" rides a fatter beat, and F.G. is all over it with her double vocals placed for optimum effect. Confidence and swagger are on full blast; she has enough to lend some to other lesser artists, though I have the feeling she'll be keeping it all to herself. "Untouchable" fits well with the determined, upstart theme of the album. Another heavy beat similar to "H.A.M" by Kanye West & Jay-Z, it suits F.G. just fine. Fast forward to 1:14 and F.G. is spitting some of the fastest cutthroat verses you're likely to hear this side of Lil Wayne. This is an artist determined to move forward and hit the indie hip hop scene hard.
"Hands Up" finds her exclaiming "This girl on fire! See me flicker, flicker…" and we're 4 for 4. Produced by Flawless Tracks, this is yet another impressively produced track. I wouldn't call it a club track particularly because this is real hip hop — it's possibly a bit hardcore for the clubs. Other highlights on the EP include the two closing tracks "Standby" and "Up Up and Away", which both explore more slow burning sonic territory, especially the closer.
F.G.'s "No Fly Zone" is required listening for anyone keeping up on buzz artists and indie, cutting edge hip hop. Aggressive but inspiring, it's F.G.'s fire that comes across; her determination becomes the main theme of the music even when she's insulting her competition. I don't normally rate a release this high, but this is an artist of such high calibre that she doesn't just HAVE potential. She is on top of her game, and it's a pleasure to listen. Recommended for any serious hip hop fan.
http://reverbnation.com/da1nonlyfg
James – james@independentmusicpromotions.com
[Rating: 5/5]