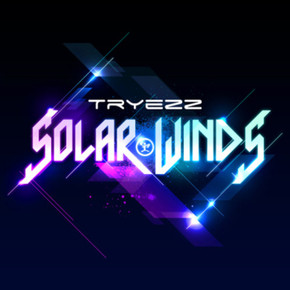 Is it really 51 degrees out there in late January? Wow, and I thought that global warming was a bad thing, just kidding! Anyway lets get to my guest today who is heating up the music scene with hsi hit single "Solar Winds." Tryezz is an overall creative type that dips into music, design, tee shirts, and anything to keep him stimulated. What I like most about Tryezz is that doing music is in his DNA, he has no choice. If you do not believe just check out his Youtube channel. Join us this week as Tryezz talks about how he got his alias, what equipment he uses, Miles Davis, and much more!Stoli: Where are we talking from today and are you pleased with how you did in 2011 musically?
Tryezz: For the most part. I'm especially happy with the release of Solar Winds. I believe this release is my best to date. With every previous release, I've learned new elements of sound and artistry, learning more about what I could improve on. With "Solar Winds", everything clicked and everything I learned came together.
However, with all the great response that I've recieved with Solar Winds, it made me realize that I have to work even harder.
I think any artist knows where I'm coming from….always reaching to learn more.
I still feel that there is much for me to learn, but I know I've come a long way from where I was.
Stoli: What does the new year 2012 mean to you & what would you like accomplish this year?
Tryezz: For 12′, I would like to totally take off and start my career as an artist. I would like to tour and play at different shows and events. I would also like to network and find new and different places to spread the sound. Just really start my Journey.
Up to this point, I'm working a regular job. Kind of going through the motions of all that. I plan on branching out though.
Stoli: How did you get into music and come up with the alias Tryezz?
Tryezz: Well as far as getting into music, this was pretty much in the genes. I have always been a creative soul. I started playing the piano at a very young age. I was fascinated with the sound it produced. I started out playing various tunes I heard off TV. From that point, I never looked back. As I got older, it became more and more of my focus, amongst other artistic outlets.
As for my name, that actually came about from dancing (b-boying/breakdance). I had been dancing for about 1-2 years, and I wanted to come up with a unique name. A name that would represent who I was as a dancer and a person. So I sat in my room and eventually came up with "Tryezz".
Musically, I used to go by "Tyrezz", or "The Tyrezz Project", just switching out the "y" and the "r". I wanted to have a different name everything I did. Long story short, that got real complicated. Haha.
So now, I just go by the name "Tryezz"…
"Solar Winds" MP3: SKOPE IT HERE!
Stoli: Would you say that your friends & family are supportive of your musical ambitions?
Tryezz: Hmm. To a degree. With my family, for the most part, they know I can "play the piano really good", but that's about how far it goes.
They always knew I could play, but it wasn't something that they'd go crazy over. They're cool with it though. My lil' cousin, however, really digs my stuff. =)
As far as friends, it varies. Some really dig what I do. Others are more indifferent to it. That's not to say they don't care, it's just that it doesn't seem to resonate with them as much. It's kinda' like, "Yeah man…that's sounds pretty good man….So what else have you been up to?". Hah.
Over time, I've learned that, whether I get a lot of support, or none, I'm going to keep doing what I love.
I  want to see how much I can learn and how far I can go. I don't expect anything from anybody. However, I stay thankful when people show support. This applies not only to family and friends, but people in general.
Stoli: What artist or producer would you say had the most influence on you that you admire?
Tryezz: I would have to say Miles Davis. I'd always liked his music. But when I heard his song "Mystery", it totally changed my approach to making music. I try not to admire anybody so-to-speak, because we are all human, but he has had a great influence on me musically.
Stoli: I really enjoy watching your videos on Youtube. What equipment/software are you using?
Tryezz: My setup is quite simple hardware wise. I have a M-Audio Oxygen keyboard controller and my laptop. Software wise, I use a program called MuLab for the keyboard/synth sounds. And on most of my videos, I'm using a dj program called DSS DJ for the backing track. I control them both at the same time using the keyboard controller. It took a lot of trial and error to around to get the setup down. Now, I'm using MuLab and Winamp. =)
Stoli: Can other artists come to you for beats and if so how do they reach you?
Tryezz: Well actually, I try to keep my tracks as instrumentals. I don't think of them as beats as much as they are compositions, y'know? They express a vibe and mood, even though a lot of the tracks do bump hard. I guess I'm just an instrumentalist at heart. I've had a lot of people ask though. Most of the time, they usually understand where I'm coming from and are respectful of it.
Stoli: I really like the "Solar Winds" single you have out. Offer us insight into how you take a track from an idea in your head to a real song?
Tryezz: The best way I can explain this process is that I approach a making song like I'm scoring a movie. If I have an image in my mind, then I think, "If this was in a movie, what would I want the background music sound like?".
In a sense, I'm telling stories with sound. Once I get a clear vision in my mind of what I want to do, then it's only a matter of laying down the track. And sometimes, the original vision for a track turns into something different once I start working on it.
http://www.youtube.com/user/Tryezz
Stoli: You also make cool t-shirts as well under 'Nebulous Regions by Tryezz.' Do you sell a nice amount of units and would you consider yourself an entreprenuer?
Tryezz: Thanks, I appreciate it. To be honest, I've only sold a small amount. However, I haven't been pushing it out there as much. I plan on addressing that though. ;) Plus, I want to add a couple more designs to it as well and build it up. Eventually, I'd like to be known just as much for t-shirts (and visual arts in general) as I am with the music.
I do consider myself as an entreprenuer. I like to push the envelope and see how far things can go, and more-so, how much I can learn along the way. I have that entreprenuerial spirit. I believe the impossible is possible. =)
Stoli: What is coming up for Tryezz and where you at online?
Tryezz: I'll be posting more live sessions videos and continue to spread the sound and build my presence. I'll be pushing the t-shirts more as well, adding more to what I have. I also want to get on some popular internet radio stations too.
Lots more newness on the way….ahh yess. ;)