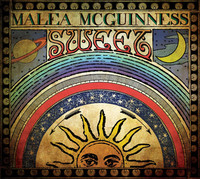 Singer-songwriter Malea McGuinness has an impressive list of accolades under her belt. She's toured extensively, garnered a ton of positive reviews, and opened for acts like The Counting Crows. Her latest release entitled "Sweet" displays her impressive vocal chops overtop music that could be called country pop, though it's safe enough to fit in the adult contemporary category. This is music written for radio, but infused with lyrics meaningful to the artist, and it can be a slightly awkward balance at times.
On "Something to Believe In", the balance works, and you can picture this song catching on in mainstream circles. The message of the track is poignant, that no matter what happens to the "music industry", there will always be the art itself, and of course it's creators' spirits, to believe in.   The repetition of "There's always something to believe in" comes across as a bit schmaltzy, and that's where the strong adult contemporary feel enters the release. This is not necessarily a bad thing, but it's a dividing line for many music listeners.
"In the Next Life" is another track that speaks to the mainstream country music lover's heart. Fans of Faith Hill and LeAnn Rimes would find something to enjoy here in the warm grooves and the soothing croon of McGuinness. "Stars" has a classic feel to it, and it's probably the strongest track on the album as far as radio potential goes. Malea McGuinness's promotional team should be promoting this as a single, with its simple format and the full-blown emotional lift of the chorus thanks in part to the backing choir featured.
Other catchy tracks on the album include the title track "Sweet", a celebration of love and a new perspective, and "Believer", which takes a more refreshingly traditional country/bluegrass song-writing approach and some well-written harmonies. "The Phoenix" has a subtle power and honesty to it and it's a recommended listen for any fans of good country song-writing. On "Looking for Love", Malea steps back slightly and lets the groove fill in the blanks, and this space adds to the track. There's no belting out of a chorus here — just a strong groove with the mood left intact. "Midnight Rider" was the only track on the album that could be considered partially "rock", and the style works for Malea. Both the groove and the slight attitude and perseverant intent of the vocals show some spunk that was completely absent for the rest of the album.
All in all, this is a professionally played, professionally recorded disc that feels like it doesn't quite work as a whole. Malea croons away over typically arranged tracks with an adult contemporary passion that makes for a challenging listen. The end result sounds like a separated band and singer, with the goal of a safe, digestible release that no one could be offended by. Trying to inject meaning overtop of this comes across as preachy, and the balance wavers. "Sweet" tries so hard to fit in with mainstream music that it comes across as a copy — a hovering soul. However, fans of mainstream country and adult contemporary music may just find this to be a strong addition to their CD collections.
By: James Moore – james@independentmusicpromotions.com