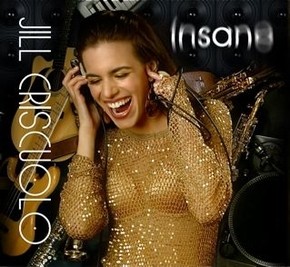 Jill Criscuolo may not be a household name, yet, but with a few radio hits under her belt, an upcoming reality show   and a summer 2012 tour, you might not be able to get her out of your head. And that's precisely the idea.
Q: You have a new single coming out in support of your 2012 tour, can you tell us anything about the single and what we could expect to see/hear live?
A:   My new single is very exciting, as for anything else you don't tell what the gift is before someone unwraps it!   So.. you shall wait and see:).   During my live performances everything is very real and down to earth. I truly sing live, my band is amazing, the dancers kick butt, and last but not least this is a show you should not miss!
Q: I've read that you're learning to play guitar, does that have an influence on your songwriting and will you be playing it on your tour?
A: My guitar lessons are very inspiring to me! It's very interesting to mix "my baby" which is my voice, with the guitar! The two instruments are new to each other so they are trying to get better acquainted, as for my tour we will have to wait and see how well they are getting along around that time!
Get the Official Jill Criscuolo Mobile App: http://www.reverbnation.com/mobile-app/7476/jillcriscuolo
Q: Would you tell us about your upcoming reality show, is it reflective of your music career?
A:Each project is inspired by ideas from life experiences of mine as well as my collaborators. My recently completed TV pilot is called Voyeur. Voyeur is actually based on a fictional character, who owns a secret nightclub! Voyeur is being shopped as we speak, as for my music career being followed on television that is hopefully soon to come. We also are in the process of shooting various TV show projects that are in the works. When all is finalized whichever project stands out the best will be the direction that we will be headed towards. I guess time will tell. :) Don't you love intrigue!!!!!
[youtube XMBYEG_GUo0 nolink]
Q: You've recently performed an Anti-Bullying rally, how did you get involved in that and what made you decide to support the cause?
A: I was asked by the Union County Prosecutors Office to perform at this pep rally, and I was extremely honored to be involved. This particular cause is important to me and I feel bullying needs to come to an end. I hope to be apart of more events such as this one in the future. I deeply pray that the program and the music touched the heart of the victims and sent a message to the bullies around the world.
Q: Besides singing and songwriting, you've also learned how to self-produce demos using Garageband and Pro Tools, as well as playing piano and guitar. Is music production something we might hear from you down the road?
It'd be interesting to hear a woman's perspective on song/music production as it's still pretty new ground.
A: To answer your question about production in the future, I learned to never say never ! At this point in time I am enhancing my musical skills and educating myself to the inner workings behind the voice, that makes the song come together. For now I am going to leave the producing to my team, they are the gurus!
Q: Tell us about your new phone application for Android. Was that your idea and what does it do?
A: My media team first started out with the Jill Criscuolo iPhone app way back, we always try and stay on the cutting edge of technology and social media! The new android app contains bio, photos, music, and future events. The best part about this app is that it's free!!!!!!! so there is no excuse not to check it out. While you are doing that don't forget to go to http://jillcriscuolo.com and Facebook/jillcriscuolo.com :-)
Q: How important is family support to you regarding your career choice to become an entertainer?
A: I am extremely lucky because my family is over the moon supportive about my career choice! They practically are the vehicle driving me to the stars! They are great :-)))
Q: If you could tell the world anything right now in one sentence, what would you most want people to know about you?
A: Everyone always says follow your heart…. well… my heart says sing :)
By: Douglas Garnett – douglas.garnett@gmail.com