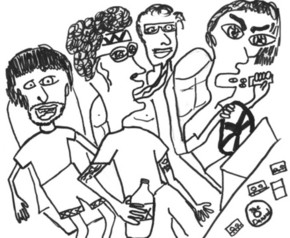 The Johnny Ill Band announces the release of their upcoming album "Ask All The Doctors" out February 7 (Digital) / February 28 (Physical) through Urinal Cake Records. A local favorite in one of America's most celebrated meccas for underground rock music, The Johnny Ill Band sounds like a blissful mix between the stone-sincere lyricism of The Modern Lovers and the raw, melodic sensibilities of early Pavement.
Download/Listen/Share: "Where Do You Live?" MP3:
http://www.wildcatpr.com/artists/JohnnyIllBand_WhereDoYouLive.wav
"Ask All The Doctors" is garage rock proto-punk at its finest. A follow up to a trio of 7″ singles on Kaboodle Records, Italy Records, and X! Records respectively, the album was recorded in a hexagonal cabin nestled in the woods outside a quiet little town called Chelsea, Michigan in the dead of Winter, 2010. Recorded and produced with the help of good friend Derek Stanton of Turn to Crime and Awesome Color (Ecstatic! Peace Records and one of J Mascis' favorite guitarists, nbd…), the record was finished during a whirlwind weekend in the quiet woods, within the cabin's mirror-drenched, lava lamped six walls.
The Johnny Ill Band have been an integral part of Detroit's underground music circuit, with current bandmates that include members from Fontana, The Piranhas, Beekeepers, and Terrible Twos.