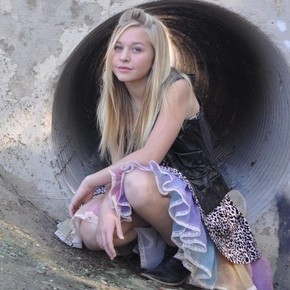 Talent comes in all ages, Justine Dorsey is living proof. This sixteen year old young lady out of California is planting seeds and watching her career grow. She started singing at the very young age of seven and also did musical theater and eventually picked up songwriting. Writing became the catalyst that made her creativity grow into what it is today. Through her music she was able to express herself and grow as an individual and really explore what the world has to offer and she is taking full advantage of every opportunity.She completed high school this year, did I mention she is only sixteen, and is starting a junior college in January. Not only is she talented with the adorable looks to go along with it but she has the brain power to make her future soar. Equipped with her new car she received this year for Christmas as she so excitedly shared with me, she has her guitar packed and is geared to do some living for more material to write about.
[youtube TbQfhUgen0Q nolink]
Talking with her was a pleasure and learning experience for me too. I had to remind myself often that I was talking to a young lady with only sixteen years of experience. She was wise beyond her years, extremely articulate and a respectable role model for even us old fogies.
She has a long road ahead of her but has come so far already in a short period of time. Often in this business when a young lady like herself starts building a name, they become role models to their fans. I asked her if she took that seriously and what her focus is where her music was concerned. She answered with the style and grace I have grown accustomed to very quickly through out our interview.
She said, "I feel like it is the responsibility of anyone in the public eye to be a positive role model and stay on your best behavior. Young people are very impressionable, I have even done it myself, seeing people I respect when they misbehave, as a fan you want to make excuses for them. But there is no excuse it is your obligation to be a good influence. I myself want to encourage young girls or any youth for that matter to get out there and explore the world of music. It expands your mind and opens doors to new possibilities. I think music is a gift and should be respected. It can be therapeutic and inspirational. When I write I analyze my relationships and the environment around me. It is an excellent way to sort out all the emotions that spin around in my head."
Often times people think you have to be born into a musical family to have the natural talent it takes to make a career in the music industry. It is simply not true. Justine said her grand parents were talented musicians but her parents did not play or sing at all. The musical influence did not come from within her growing environment, but her parents always encouraged her to follow her heart, and her heart led her to music.
She explains with her old soul mentality, "natural talent can only take you so far. Dedication and hard work are the ultimate tools to success."
Coming from her acting back ground she has had that training and knows how important it is to find that connection with an audience. Her performances vibrantly reach out to everyone on a personal level.
She continued, "My music is me in my most vulnerable state. I write about extreme highs and lows in my life. I think that is how I am able to connect with my audience when I am on stage. They are able to see and feel the human side of who I am; not only the glitz of the pop genre that I sing in. I am so emotionally attached to each song it makes it easy for me to share that vulnerability."
She stays busy with her live performances and has been invited to perform in some legendary places like, Kulak's Woodshed in North Hollywood, where people like Jackson Browne have shared the stage. She also has a spot at the NAMM Show where she will be able to exhibit her talent to music industry people from all over.  
I think a lot can be learned from Justine Dorsey and it is certainly entertaining to listen to her music. She has a bright future and is looking forward to seeing what the new year has in store. Visit her online and follow her through social media, she enjoys communicating with her fans. http://justinedorsey.com/.
Rebecca Hosking – hoskingrebecca@gmail.com