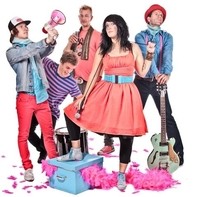 In today's music there sounds that take control of your body; to a point that you can say it's kinda subliminal. However there's a big difference between artists and bands that need of this "witchcraft", if we can call it like that and artists and bands that has a talent to make this without the need of studio arrangements.
…and you will know us by the trail of pink feathers by Swedish rock band Vaganza Trailerpark has what it takes to do this by themselves. This is not a surprise once you see their influences that goes from Blur, Queen of the Stone Age, The Doors and others that are well appreciated in each of the tracks from "Dhaka Girl" that recalls more the first and third band mentioned before and then we found songs like "Final Round" that goes by the line of the second group, with their blues/rock vibes. The other three tracks jump up and down this examples.
Lyrically, they are between optimistic, fun and some bitter personal stories. Jessica Bergkvist, which to some listeners may recall to also Swedish indie band The Sounds frontwoman Maja Ivarsson and American actress/vocalist Juliette Lewis, suits perfectly with the incredible sound created by the rest of the guys.
In conclusion, now that you know the truth, you may keep listening to same subliminal mainstream stuff or begin listening pure awesomeness. Head to http://www.vaganzatrailerpark.com and enjoy, just enjoy without worrying about brain watch.
By RJ Frometa
[Rating: 5/5]