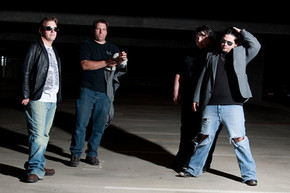 Good to see we all survived another Christmas season, and now we have New Years to look fowward to. I must say that the mashed potatoes, steak tips, and lasagna were delicious. One of my guests at Christmas introduced me to the coolest music APP called Shazam. The APP can listen to a song, tell you what it is, and guide you to buy it, amazing. I am also excited to post this next band that I see as being on the verge. Modena released the EP earlier this year with the hit, "Second Time Around" and it has been on since then. Just us as Modena talks about the sexy woman in the video, how they came to be, playing live, & much more!Stoli: Where are we talking from today?
Modena: From Jaymz and Justin's apartment in Chapel Hill, NC. No major plans as of yet.
Stoli: You guys are riding high off the release of your EP & video "Second Time Around." How has the response been and how long was that album in the works?
Modena: The response has been great. The YouTube hits keep racking up and we're getting a great response from all over the internet. That EP only took a few days to record but we had the songs written for a couple years. It's just been a matter of finding the right guy to capture our sound
Stoli: I love the video for "Second Time Around." I must ask who was the sexy woman in the video and is that song based on real life?
Modena: The sexy woman is aspiring actress Breann Marie Garner. She was recommended by the director and did an amazing job! The song is loosely based on an actual incident that occurred between me and an ex girlfriend.
Stoli: The video paints a picture of a relationship gone bad. What is the storyline & theme behind the video?
Modena: The storyline portrays the ups and downs of a particular relationship. The main character gets a call from his girlfriend in the video. He comes over and finds out she's getting flirtatious texts from another guy and a fight ensues. Bottles, guitars get smashed and the guy leaves. As he's driving home he reflects on what happens. Suddenly the video rewinds back to the beginning where he answers her call, except this time he ignores it and gets a second chance to avoid the drama. So it's kind-of like an alternate reality thing going on. Our bass player Stewy actually came up with that concept and it worked really well.
[youtube jCQqIlcZ07w nolink]
Stoli: How long has Modena been around & how did you get the name for the band?
Modena: We've been a band since 2006. The name itself comes from a town in Italy, however I got the idea from playing a racing video game back in 2005.   I chose the Ferrari 360 Modena and thought "whoa, that'd actually be a cool band name!" and that was that. I had a list of names that was around 2 pages long and I hated every one. I knew we wanted a name that was short, sweet, and to the point…plus it was hard to find a band name that no one else had already taken.
Stoli: Give us a visual of how the band comes together to write a new song?
Modena: For our new material we usually come up with the riffs/ideas on our own time. With it being the digital age, it's a lot easier to collaborate from far distances. Since the other two guys in the band live out of town, it makes it easier for us to share ideas via audio text message or e-mail. Either me, Justin, or Stewy will come up with a riff, send it to each other. When we get together for practice we re-introduce the riff and try to get it tight as a band. If it works, we keep it. Since we already know what the new riff is going to sound like it's easier to come up with a basic idea of what each person will play
Stoli:   You guys have got some amazing reviews off the EP. Do you get nervous how the press will react or do you just focus on the fans?
Modena: A little bit. Whenever you come out with something new you're always a little bit nervous as to how your fans and the general public will react to it. As an artist, it's easy to get upset with a bad review. I always have to remind myself that it's not the people that hate your music that matter, it's the people and fans that like it who make the difference.
 
Stoli: Have you had the opportunity to play live and do you have some gigs coming up?
Modena: We just played the Mid-Atlantic Music Conference in Charlotte which was a blast. However we haven't had too many gigs this month because we're working on getting the songs just right for recording. The studio is a totally different mind-set and you must prepare for it.
Stoli: You guys are signed to Filamemt Records. How did you hook up with them and how do they help push Modena's movement?
Modena: We sent them a promo pack through the mail last year with our old EP. They really liked our sound and within a week we were offered a deal. They helped us a lot with the EP release by taking care of online distribution on all the major music retailer sites in addition to helping with promotion and booking.
Stoli: We are all saddened to hear of Steve Jobs passing. What does his leagcy mean to you guys and music in general?
Modena: Well the iPod and iTunes certainly changed the music business forever. Whether it's for the better or not remains to be seen. Jobs' digital music age has allowed for people to share music much more easily. This has led to the belief by many consumers that music is no longer a commodity and that it should be free. It's an unfortunate consequence of the world we live in today.
Stoli: You guys are young & talented. Do you have day jobs or school to attend when you are not playing music?
Modena: Right now we all have day jobs outside of the band. Music is our passion but we need to pay the bills too! Our ultimate goal is to one day make this our only full-time job.
Stoli: How much time per week would you say is devoted to your social media and who handles that work load?
Modena: It's hard to say, and honestly I think I would lose count. Even though we are signed to a label, I still do most of the online promotion. Social media is essential in today's music business so it's important that we keep our followers and fans engaged in not only our music, but our day-to-day lifestyle. Fans love seeing their favorite bands doing everyday activities and it allows them to relate to us a little more.  
Stoli: What is coming up for Modena and where can we follow you guys?
Modena: Well right now we're focusing on recording the rest of the album in Cleveland with Jim Wirt early next year. We're currently putting some new songs together and we should have another video out around that time as well. There will be a short sampler of the new material posted on all of our social media sites soon. You can follow us on Twitter @modenamusic or you can visit our Facebook page at http://facebook.com/modenamusic. We also have a website: www.modenaofficial.com