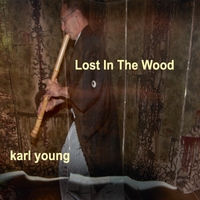 Over the years we've seen music slowly erode into over-commercialized, corporate puppet shows providing music that is extremely sing songy, predictable, popish & highly corporate. I hereby call this new breed of music "Poser Rock" and I want to personally thank all the corporate giants for successfully transforming "Sex Drugs and Rock n Roll" into "Yoga, Vitamins and Nikelback" Of course millions of musical lemmings don't know the difference anyway, but not everyone is entertained. Talking to many music fans out there the response is overwhelming. Give me something new, something special, something that takes us int uncharted musical territory. Something that doesn't sound like Nikelback, Daughtry or Lifehouse.
So across my desk slides the new CD by Saxophone and Shakuhachi player Karl Young entitled "Lost in the Wood" and what I heard put a smile on my face.   It's a nice easy flowing record that delivers solid songwriting with a peaceful Jazz nice ambience that just flows across your ears and is comparable to a fine bottle of wine — or in this case Sake. The music is extremely hard to pigeonhole for me because it is a cross between Miles Davis, Wayne Shorter and classical Japanese woodwind music. If you like my rather sloppy description of the musical style then you should definitely check out this CD. My favorite track is probably a toss up between "Ghosts" and "Dolphin Dance."   I would recommend to Mr. Young – perhaps shorten the catalogue a bit and minimize some of the musical meandering just a tad. But hey that' Jazz folks! So I will give many of the aforementioned musical a hall pass. Many amazing Jazz composers out there know how to integrate the best of both worlds — using traditional touches but also adding some pieces that are from other amazing cultures. This is someth8ing that will transcend naturally of course is easier said than done. Try making a Japanese Cheeseburger — and pull it off flawlessly — Indeed a challenge. Karl Young does exactly that with this latest release – pull it off flawlessly. CD available on CD UNIVERSE.
"Lost in the Wood" by Karl Young is clearly a marquee release with many feel grooves with a pleasant atmospheric quality to it. It's a record that gives us a fresh glimpse at an amazing artist and takes us back a few years — before everything started sounding like — well Nikelback.
By: Kevin Huber
[Rating: 4.5/5]