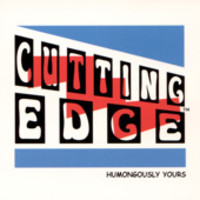 The Cutting Edge train continues to push hard as the group gives you 'Humongously Yours' in all its glory.   This particular album came out in 1998 however just this past summer two tracks, "If The Walls Could Talk" and "Without You" landed on the Billboard Hot Single Sales Charts.   "Without You" spent nine weeks on the charts and "If The Walls Could Talk" remained there eight weeks.   Cutting Edge makes music history here because it is the first time that an indie band debuted two songs the same week inside the Top 20 of the Billboard Hot Single Sales Charts.   The magic doesn't stop there though as you have the song "Love Police" that ran steady for over a year on the charts and hit #20 in the United States.   The tracks "It's Time", "Judas of DC" and "Abuse of Power" hit charts both nationally & internationally while the record itself has been played on over 240 college radio stations in the United States.   'Humongously Yours' had six singles on radio charts over a two year period which is extremely uncommon in the indie circuit let alone the majors.
[youtube p96ZOcKsjV0 nolink]
So Cutting Edge knows how to get it done so it seems and 'Humongously Yours' proves that.   The record features 15 tracks of originality where you're hearing something completely different from one song to the next.   Cutting Edge starts up with "It's Time" that gives you David Pesnell's patented chat-rap vocals to go along with a rock heavy flow and a solid guitar presence.   This album has a major theme going on here and that's anti-lawmakers.   Going against the establishment by way of music in order to hopefully make a change for the better is what 'Humongously Yours' centers around.   With lines like: "Out of touch with reality", "Capital Hill Washington, DC would they say it's a place of honor or say it's a place worse than hell", "Do we have a justice system?", "Let's find a solution", "Fools run the nation" and finally "DC runs on power 'n' greed" you get the point.   "Watch out DC people, here it comes Cutting Edge!"
MP3 link for "It's Time":
http://soundcloud.com/cutting-edge-1/its-time-live
The record features David Pesnell on vocals, Bin Yasuna, Jeff Carolus and Zeke Zirngiebel on guitars, William Zimmerman on sax, keyboards, bass & background vocals, John Platero & Brent Fitz on drums and all songs written by Liza Pesnell and William Zimmerman.   You also hear other fill-ins that really step up their game like on track five "Heart Failure" where the background singers are just bringin' the heat.   Besides rock Cutting Edge also adds some funk to their step like on the ever popular "Love Police" and the catchy number "Night of the Monster".   You'll witness an easy listening vibe, good & powerful message and the pleasant sounds of the sexy sax & top-notch background singers on "Come Together".   Get ready for a song that is all about the almighty one God on "1-800-Dear God" where the "lines open all day, all night".   I can't say enough about this next song titled "Without You" that offers up one incredible vocal performance and hands down one of Cutting Edge's most emotionally-drenched tracks.   "Without You" has so   much feeling where you will find yourself getting lost within the music, the lyrics and the voice.   Now it wouldn't be a Cutting Edge album without a dance remix or two…right?     You get just that with two remixes for "Judas of DC" that are club-friendly without a doubt.   "Dance Mix 1" is breakin' us off somethin' nice with some hotter than hot beats while "Dance Mix 2" is more of a hypnotic dance groove that really moves.  
In the end what can I say but Cutting Edge has done it again!   100 % eclectic in nature and ALWAYS entertaining, Cutting Edge and the 'Humongously Yours' proves to be an instant success!   One thing I thought would be worth mentioning pertains to David Pesnell's distinct chat-rap vocals that definitely work for this type of music but I'd love to see Pesnell reach even deeper vocally.   Cutting Edge, in general, consistently digs deep for material so I know David has it in him.   If you think this band is done then you're crazy because the Cutting Edge party has just begun!   In the meantime enjoy 'Humongously Yours' because it really does have something for everyone.  
For more excting info on the band Cutting Edge check out these cool sites: http://www.tweewoo.com/artist/Cutting+Edge/biography
www.youtube.com/cuttingedgerockband
www.cuttingedge-band.com
www.thunderquestrecords.com
www.myspace.com/cuttingedgeband
http://www.ticketmaster.com/Cutting-Edge-tickets/artist/796265
P.S. If you're a fan of the guitar then get ready for some dynamite playing throughout this 15-song set which includes some killer riffs that will blow you away.
By Jimmy Rae + (jrae@skopemag.com)
[Rating: 4/5]