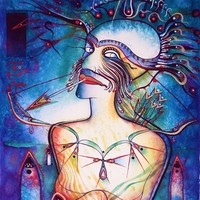 Glen Neff was born in New Jersey in a family that was extremely musically inclined. Growing up in this environment opened a lot of doors for him as he built his own career one beat at a time. His music is atmospheric and soothing. He is able to inspire emotions with out the benefit of any lyrics.
He now lives in New Mexico in a round straw-bale house he designed and built himself. I assume this is the birth place of his cosmic instrumentals. This CD was beyond fascinating for me. I am a songwriter stronger in lyrics than I am in melodies, so anyone with the ability to manipulate tunes in such extraordinary ways is mind blowing to me.
The entire CD is dreamy to say the least. It feels like a journey through time. It provokes images in my head of nature documentaries you might see on the NatGeo or Science channel. Glen has a unique way of blending pulsating beats with eerie synthesizers that create intricate melodic detail.
Glen Neff has an impressive bio with numerous projects done for TV and films; after listening to his latest release, "Tribal Timeshift", it is easy to understand why. He is a composer extraordinaire, who can conjure musical masterpieces that are spellbinding.
While listening to the CD in its entirety I came to learn, understand and appreciate that I was in the presence of greatness. This CD not only is an excellent learning tool for anyone interested in pursuing a composing career, it is also an awesome resource of enjoyment.
Rebecca Hosking – rebeccah@skopemag.com
[Rating: 5/5]