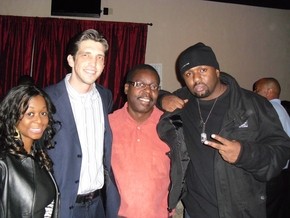 As we close out 2011 with 2012 looming ahead, it's nice to know that one record biz constant is CHANGE. We lost "memorables" like Heavy D and Vesta, Beyonce's expecting a little one, Rick Ross and Wale are doing big things, while Mary J. Blige is still blowing them away at her shows. As Niki Minaj and Rihanna go head to head for SEXY DOLL of the biz, we find former Michael Jackson doctor Conrad Murray found guilty of involuntary manslaughter.Plus, we've got my man from the day L.L. Cool J, Drake and other MCs out making headlines at all kinds of events, like the Grammies, American Music Awards… and there are still all kinds of things going on, from a ripple to wave, in cities across our shrinking rock.
So folks, what do YOU think was the biggest "affector"of 2011? Let us know; we might print the most interesting one in January — pick up your 15 minutes of fame!!
With all these "Occupy (fill in your favorite city)" missions that recently took place, I got to thinking of all the offensives that were launched over the years in order to make a difference. What I realized was that most, if not all of them utilized music in some form or another. So in order to show an example of music being used in a political context, our January 2012 blog will dig up an excerpt called "A DIAMOND IN THE ROUGH" from the upcoming MUSICOLOGY release. It's about a spectacular lady from St. Louis who wound up permanently relocating to Paris, France to prove her point about racial politics. Her initials are J.B.–can you guess who it is? First right answer gets a limited edition 45/CD sampler of The OKeh Rhythm & Blues Story 1949-1957.  
What other noteworthy efforts of how music played or plays a vital role in people's lives can you dig up?
HAPPY HOLIDAYS FROM THE KNIGHTS OF THE SOUND TABLE!!
PICK HITS:
PICTURE OF THE MONTH: (Above Header)
Publicist Tiffany Lee (Tyler Perry, T'Melle),  
J. Golden, L.A. Jackson and the Wu Tang's NLZ
MP3 OF THE MONTH:
"SITTING ON A CLOUD" remix — JOE BLACK with TASHAN7
www.reverbnation.com/spliffermanakajoeblack
YOU TUBE VIDEO OF THE MONTH:
ELLIOT HOLDEN (with Grammy winning drummer Yonrico Scott) — JOHANNY
[youtube 8z6dMqOWIvo nolink]
By: LA Jackson – musicmon101@gmail.com