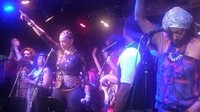 United Funk Order is a R&B group bringing some stylistic tunes your way. This group is on a mission to show you how this music thing should be done. They are bringing it with dedication and heartfelt funk.
The CD is not only funky but is changing the way we know music. The vocals have the power of persuasion and belt out potent melodies.   There is strong lyrical content backed by tight production. You can tell this band has poured every ounce of dedication their souls have to offer into this project. They have created an allegiance to wake up all those funksters out there. If funk is your thing then this CD is not only entertaining but is a religion.
Each song has the tempo that drives you out on the dance floor. It is contagious and creeps into your veins until your singing along uncontrollably. Raise your arms up, throw them in the air, whoop whoop, I'm feeling it!
Not often   does a band come along with a serious mission to absolutely entertain you to the point of exhaustion. United Funk Order is breath taking and psychologically compels you to become an obsessive fan. This is music without limits; you can't get enough of it.
The CD is due to be released the end of this year, I was lucky enough to hear it in advance. I feel it is my obligation to let the world know what is about to hit it.
Rebecca Hosking – rebeccah@skopemag.com
[Rating: 4.5/5]