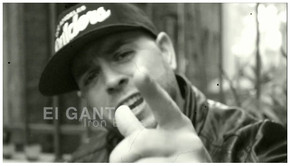 After debuting his latest mixtape Rule By Secrecy on DJBooth.net, the NY veteran El Gant is pleased to unveil the visuals for the project's first leak, "Iron Eagle".
[vimeo 33314459 nolink]
Directed by Uriah Herr of Lemur Media, the video finds El Gant meandering around Manhattan's L.E.S., shadowed by his brother J Blanc on the air guitar.   Cameos courtesy of the late Sam Kinison and Tek…better wrekonize.