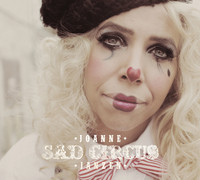 Hello Joanne Janzen–CMT is calling!   Get ready to hear this multi-talented & self-taught singer/songwriter & guitarist as she brings you her full-length album titled 'Sad Circus'.   Your ears will be impressed after listening to this new release and it might even blow you away if you're lucky.
Mrs. Janzen has Australian roots but she is based in Alberta, Canada where the magic is currently happening.   Janzen's latest project includes three original numbers by Joanne herself and you will be pleasantly surprised to know that some of Nashville's top songwriters/performers wrote seven tracks on 'Sad Circus'.   Names include: Guitarist Tony Obrohta (Wynonna, Gretchen Wilson, Big and Rich, The Wreckers), bassist Dave Roe (Johnny Cash, Kris Kristofferson) and drummers Keio Stroud(Rodney Crowell) and William Ellis (Montgomery Gentry).   Two other key artists include: K.S. Rhoads on keys, melodica, accordion & ukulele and Americana musician Lori McKenna.   With all this talent on board and Joanne Janzen shining as bright as a star, 'Sad Circus' is sure to be a success.
This album holds much power in the sense that Janzen & company nailed all aspects as far as what a good, solid record should sound like.   Musically, lyrically, vocally and production-wise, 'Sad Circus' tackles it all and scores a winning touchdown in my opinion.   What really sparked my interests here was the wonderful singing that Janzen displayed throughout the entire 10-song set.   Joanne has one of those voices that will make you listen whether you like it or not.   She offers up music that soothes, fun, feel-good grooves and heartfelt, meaningful numbers that will leave you fully satisfied.   Whether Joanne's singing about the highs or the lows, she is always hittin' you with everything she's got.   You'll pick up on some "Good Vibrations" on "Good Place" and then step right up and receive a scoop of intimate 'n' softly served "Ice Cream".
If you like music that has a ton of substance, sounds great overall and meshes Country & Pop together perfectly then you will love Joanne Jenzen and 'Sad Circus'.   The balancing between the catchy Pop/Country appeal and the deeper material is what makes Joanne Janzen and this project so special.   In the spirit of the holiday season I have to say Mrs. Janzen seems to have that quality to her voice & nice touch that could make for one great Christmas album.   And being that this is the season of giving what better time to mention that Joanne will be donating a portion of the album sales to the local cancer charity Relay For Life for the next six months.   So go buy yourself a copy of 'Sad Circus' because it's worth it on so many levels!   And on that note I will leave you by saying Merry Christmas, Happy New Year and to all a good night!
By Jimmy Rae (jrae@skopemag.com)
[Rating: 5/5]