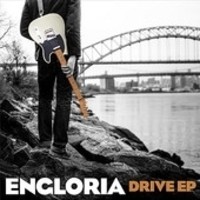 I simply love when I hear an EP or full-length album and it hooks me in right away.   That is the case with this current EP titled 'Drive' by the band Engloria.   This 3-track recording is a follow-up to their 2010 debut release called 'Sundown' and I gotta say they followed up nicely.  
The group is made up of three members: front-man & chief songwriter James Stewart along with his brother Brandon Stewart on drums, Michael Gleason on bass and Devon Scott on guitar & vocals.   Just three songs here but enough for me to realize that Engloria has got IT.   What is IT you ask?   Well in this case for Engloria, IT would pertain to the catchy-as-hell sound that is performed extremely well by trained professionals.   What Engloria has come up with here is something that can be enjoyed by many by way of pop/rock hooks & melodies.  
As soon as you hit PLAY and you hear "Drive" you'll know right away what I am talking about.   Reason being is because you detect a radio-friendly vibe all the way that will "Drive" your senses wild.   Next up on "Out of Love" one will realize that Engloria has made a true connection between themselves and the listening audience.   On the final installment "Made For You" I have to say that this song was made for Engloria due to the fact that you get an absolutely perfect combo of guitar & vocals.  
Stewart's singing really grabs you as you follow along because he has a nice, distinct voice that gets your attention.   Additionally, the lyrics are designed to be people-friendly as Stewart & company make music that can relate to you and I.   The production is well-done and the band chemistry is spot on so I guess it's safe to say that I am an Engloria fan now.   With just three songs provided on 'Drive' though I have to admit that I am thirsty for more and hopefully Engloria will quench my thirst before too long.  
By Jimmy Rae (jrae@skopemag.cocm)
[Rating: 4.5/5]