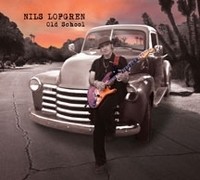 In listening to anything related to Nils, It's important to understand that not only does he draw on his influences, but he's also been an influence on other rock luminaries.   Since playing with Neil Young, fronting Grin, touring with Ringo, and of course anchoring the E Street band, he's also consistently concentrated his efforts on his solo adventures.   Thus, Old School is a compilation of everything he's soaked in since the 70's.   Nils gets some vocal support from friends Paul Rodgers, Sam Moore, and Lou Gramm.   The album of mainly self-penned material is dedicated to his late friend and band mate Clarence Cleamons.  
The release draws attention to things going on in his life (surgery and relationships) and throughout the country, and draws on his feelings and also what he calls "Interesting and controversial characters" represented in the songs.   Which songs relate to him, and which to the characters, only he would know.   The title track Old School deals with his frustration (with countless others) with the political atmosphere in the country.   60 Is The New 18 deals with (I think) older people thinking and living like they did when younger, experiencing all of the accompanying problems.   Love Stumbles On is a great track, done in the style the E Street band would deliver.   Just Because You Love Me is also a great tune following the same format.   Amy Joan is homage to his wife, done in a Cajun style with Paul Rodgers adding vocals.   Irish Angel (written by Bruce McCabe) is another great track, soulful and sweet.   Miss You Ray is written about Ray Charles and others that have passed on. Ain't Too Many Of Us Left, refers to something encouraging Neil told him while recovering from double hip replacement surgery.  
This release features a lot of neat guitar sounds, great fret/slide, and acoustic work, and is done in his unique storytelling style with some country flavor, and keys/strings only when needed.   When talking to Nils, he comes across as a well-educated, soft-spoken student of music, with a definite passion for his solo work.   Nils is doing limited touring, catch him if he's close.   Also check out his guitar school on his website!  
By RME
[Rating: 3.5/5]