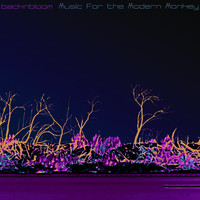 Over the years we've seen pop, dance pop, and even alternative rock bands slowly erode into over-commercialized, corporate puppet shows. Talking to many music fans out there, the response is overwhelming. Give me something new, something raw, something that's pushes hard and is going to kick me in he ass. Something that doesn't sound like — well Nikelback. Give me band similar to days of The White Stripes, Nirvana, Foo Fighters with a no holes barred musical delivery. Give me something real!
So across my desk slides the new CD by California's own Backnbloom entitled Music for the Modern Monkey headed up by infectious singer Lori Steele backed by the production expertise of Alberto Beka. What I heard put a smile on my face, finally a band that gets it with music in the vein of Pink, Lady Ga Ga and even Madonna.   Music for the Modern Monkey is some of the best new music I've heard in quite a while & delivers many of the aforementioned items I spoke about. You want full tilt rock, you want punk, you want dance grooves that are packed to the hilt with energy and is entertaining to listen to? Well look no further. This CD covers all the bases delivering solid playing and amazing songwriting & a musical flair that just lets it all hang out.
 
Music for the Modern Monkey by Backnbloom is what we've all been waiting for.   It's a polished sounding musical production from start to finish served up hot with great playing, solid writing and is fun filled musical experience akin to a party that's out of control. It's definitely a musical production that gives us a fresh glimpse at a hot new artist & takes us back a few years — before everything started sounding like — well Nikelback.
By: Kevin Huber
[Rating: 4/5]