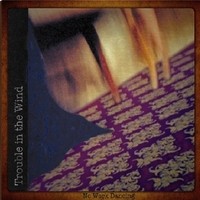 Eclectic and original are the first words that come to mind when I think of Trouble in the Wind and their debut release 'No Work Dancing'.   What you get here is not one specific genre or style but a diverse mix of songs that incorporate everything from classic rock and folk to country/alt-country.   TITW does not play by the rules or adhere to any boundaries when it comes to making music.  
The group is comprised of four musicians: Robby Gira on vocals & acoustic guitar, Trevor Mulvey on acoustic bass, Kyle Merritt on guitar, banjo and accordion and Larry Doran on drums.   You can tell that the creative juices were flowing BIG time on this album as you will find out that 'No Work Dancing' was done in a very unconventional way.   Trouble in the Wind utilized a home studio to the fullest hitting many different rooms throughout including the attic.   Working without fancy equipment and using the home atmosphere to their advantage, TITW was able to capture an organic-sounding recording session.   These four artists are giving you a no-frills approach that is extremely raw but does it all work is the question?
The one thing that impressed me the most here was the fine instrumentation being displayed.   Individually and cooperatively, the performances were played up very well with richness added to the whole set.   I do have to say though that I wasn't on the same page with singer Robby Gira.   His vocal delivery came across as a bit sluggish and just didn't work for me personally.   I could sense that Gira had the pipes to really belt it out but I just wasn't getting enough from him.   I guess you could say that I just needed more!   Also, the recording quality just wasn't up to par from a listener's standpoint.   I do realize what Trouble in the Wind's intention was for this project but when I'm hearing a record in full I need it to have a much more polished sound.   I do appreciate the effort here and the energy was definitely there but I would have liked a more refined record with a somewhat different vocal styling.   I loved the fact that each member had different musical backgrounds as this came across loud & clear on 'No Work Dancing'.   I really enjoyed the title track because the song had an incredibly catchy beat that got you excited to go along with very nice playing overall.   Get ready to "Drink Whiskey" and live it up just like Gira and the rest of the boys– "Woooooooo!"   You'll hear a surprise female vocal on the track titled "Big Razor" where you'll pick up on a very sweet quality to her voice.   I would have liked to have heard more of her throughout the album as I think she could have complimented the entire band quite nicely.  
One other item worth mentioning is that instrumentals would have been a phenomenal idea on this album.   With the ability these men have playing their various instruments, this could have made for an excellent addition to the 11-track recording.   I'm not quite on board just yet with Trouble in the Wind and their debut release 'No Work Dancing' but the talent, originality and creativity are there for sure.   I know we haven't heard the last of Trouble in the Wind as I feel they are just getting warmed up.  
By Jimmy Rae (jrae@skopemag.com)
[Rating: 2.5/5]