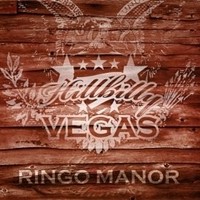 When I first saw the name of this band I thought to myself maybe these guys enjoy the slower-paced country lifestyle but also need a little excitement in their lives like gambling & partying.   Not sure if there is any truth to that or not but what I can tell you is that Hillbilly Vegas plays music that can be rebel-rousing at times but then extremely touching & heartfelt on the other hand.   'Ringo Manor' includes an excellent mix of songs that will spark your interests from beginning to end.  
The Oklahoma-based group is made up of five members: Steve Harris on lead vocals & rhythm guitar, Johnny Reed on rhythm guitar/mandolin/banjo/keyboards, Mitch Spencer on lead guitar & backing vocals, Ray Reynaga on bass & backing vocals and Troy Holinger on drums.   It's safe to say that there is much inspiration backing this entire project.   For one, the debut record was produced by Richie Owens who has also worked with Georgia Satellites, Dolly Parton and Vince Gill.   And for two, 'Ringo Manor' originated from the spot where Hillbilly Vegas recorded their first demos at Johnny Reed's home studio.   Coming from the most remote of places, 'Ringo Manor' is sure to attract listeners with their real-deal, down-home sound.
The mixture of country music & rock 'n' roll is played up perfectly here by Hillbilly Vegas.   Rowdy, raucous good times clashes with subtle and even tender sentiments.   An easy way to look at this is as follows: the rugged attitude & tough guy persona of say Hank Williams Jr. meets such meaningful & touching lyrics that come from the mouth of Randy Travis.   I love how you get the best of both of worlds here as Hillbilly Vegas does not disappoint.  
'Ringo Manor' starts up with a song titled "Shake It Like A Hillbilly" where Hillbilly Vegas is servin' up some southern-style goodness in a rockin', fun-type of environment.   Things end on a similar note with "Mason Jar" where you will be saying to yourself: 'Watch out, here come those wild 'n' crazy Hillbilly Vegas boys ready to tear it all up!'   In between all the hell-raising shenanigans you'll be pleasantly surprised to find material that hits you emotionally.   I am also a sucker for a good melody & harmonies and Hillbilly Vegas nailed it!
I was majorly impressed with the nice-sounding vocalizing that really drew me into the 11-track recording.   The overall performance from each and every member here was top-notch in my book because they are going all out and really givin' it to you.   Hillbilly Vegas is havin' a blast making music together and I'm enjoying the party thus far!   'Ringo Manor' is an instant success and so I hope you will enjoy it as much as I did.  
By Jimmy Rae (jrae@skopemag.com)
[Rating: 5/5]