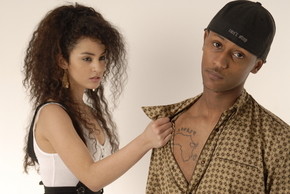 To say that we have got it going on this week would be an understatement. I am looking at a 4 day weekend filled with turkey, stuffing, drinks, family, music, and relaxation. Sometimes the timing for when we have a guest on Skoped Out is perfect. That is with this emcee from Perth City, Australia by the name of KiB and his single/video "Holiday." I have been playing this track for a few months and it's great to finally share with the Skope masses. Join us this Thanksgiving week as we kick off the holidays and KiB speaks on where he's from, what is an "Afro-Aussie", the global protests, and much more!
Stoli: Where are we talking from today and are you excited, as the holidays get closer?
KiB: We're talking all the way from beautiful Perth Western Australia, and yes I am very excited about the holidays, cannot wait to spend some quality time with family and close friends, they mean so much to me, and being so busy throughout the year, the holidays allow me to take some time out and spend some quality time with the people that mean the most to me.  
Stoli: What does it mean when you call yourself an "Afro-Aussie" artist?
KiB: When I call my self an Afro Aussie I guess, is to identify my African roots with my current surrounding that has shaped my views on many things. At the end I want to classify my self purely as an artist, and when I say that I don't just want to say a rap artist, as I don't want the walls of genre to dictate my creativity to one particular genre. I love music and all the art forms that come with it; therefore I classify my self as an artist. Like I said earlier the Afro Aussie classification is to pay dues to my roots and my current surrounds that have shaped my lyrical content.
Stoli: At what age did you really start taking hip-hop seriously and how did you get the alias KiB?
KiB: I guess I started going to the studio and recording, around 2006, but poetry is what formed my path in to hip hop/rap. So with that said, I guess I can say I always took my poetry seriously, and thanks to GOD, I meet people that believed in me to invest their time to make my dream a reality.
The Alias KiB, came from all the different names people used to call me growing up, KB, Kibrom, KiB, and I guess majority of people knew me as KiB, and it just took of from there.
[youtube jx63J2k3I5Y nolink]
Stoli: How would describe the hip-hop scene around Perth City, Australia?
KiB: The hip hop scene in my city is growing, rapidly, and its good to see young kids occupy themselves with such a positive distraction. I have noticed more people, get personal and express themselves via hip-hop rather than other destructional means, which is always positive to see. The government has also allowed this to occur as community funded youth events are always having some element of hip hop in them.  
Stoli: I love your video for "Holiday." Tell us about the concept for the video & where you filmed it?
KiB: Thank you am glad you enjoyed it. The video was shot in my home town Perth, the concept is basically about, using the power of positive music to take yourself away, from all the stresses you might have in your life. This is one by basically closing your eyes and fading away while listening to good music.
Stoli: "Holiday" was produced by iamMynority. How did you two get together and did you know instantly that you wanted that instrumental?
KiB: Well my manager hooked me up with iamMynority, and asked me to listen to some of his work, soon as I heard the instrumental, I had ideas running all over, and that was it, I spent night and day getting my creativity on, and within the month I was at the studio laying the foundations on the instrumental. Very grateful it all worked out, have to give most credit to the producer and my management, who have spent night and day to get me to the position I am at today.
Stoli: You work with various producers. What is your process for selecting an instrumental and how can producers send you beats?
KiB: Well the process is basically listening a wide range of instrumentals and basically selecting (for example) one that you like, and basically listening to it continuously till it sparks an idea in what direction to approach it in. good beats are hard to come by, but the wait and long search of finding one is well worth the wait, as when you get a good beat the flow of ideas is remarkable.
Stoli: If I were to come visit you where would we go to see live music & a good time?
KiB: I would say the Perth music scene is well worth checking out especially when it comes to live bands, so I would probably recommend The Ellington Jazz, which is known for good music throughout Perth.
Stoli: Young people all over the world are rising up & protesting. How do you see these protests and where does music fit into all this?
KiB: I guess protesting is the power to speak up form what you believe in, and well music is a tool that can be used for the same means so I guess the two can be combined to achieve whatever it is a particular person is protesting about. Furthermore Music is a peaceful approach to delivering your strong beliefs, so music fits in the delivery of a persons protest.  
Stoli: What is coming up from KiB and where can we follow you?
KiB: Well GOD willing more of the good is coming my way, am hoping to have more music videos, more shows, and an album sometime in the ear future, on a personal level I hope to complete my masters by next year so I can discover different avenues of music, I have been limited to cover because of my postgraduate commitment.