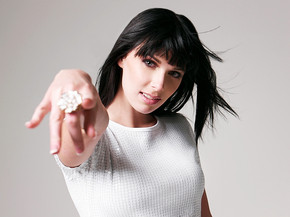 As a teenager, BigRide Entertainment artist Marlee Scott knew she was born to be a singer.   The only problem, she would discover, was that young Marlee was expecting to fulfill that destiny before she was even old enough to drive!"I remember always wanting to be a singer," says Marlee.   "When I was fourteen years old, every night before I went to bed I would tell myself that I would be a recording artist by the time I turned fifteen.   It didn't happen quite that fast, though!" she laughs.
Marlee "Someday At Christmas" MP3:
Born in Richmond Hill, Ontario, the Scott family moved to St. Albert, Alberta, when Marlee was only six years old.   It quickly became evident which direction her musical career would take.
"Marlee's mom had called to schedule flute lessons for her," remembers one of Marlee's childhood music teachers.   "When it came time for her first lesson I asked her, 'So, you want to play the flute?'   She smiled at me and pointed to a pink electric guitar that I had in the corner and said, 'No, I want to play that.'"