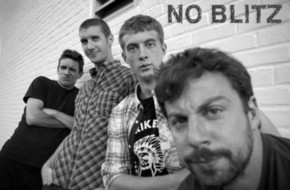 No Blitz is an American Rock band formed by Ryan Wogh.   Influenced by bands like Foo Fighters, Muse, Incubus, Weezer, etc. the debut album 'Give it Back' was written and recorded by Ryan in 2010 and features heavy, melodic guitars, driving drums, and catchy vocals.
The band now consists of four members: Ryan Wogh, James Cichra, Dan Horner, and Shane Steenberge. They are currently recording their second album and playing live.   Their sound is unique and wonderful.
Who were your early inspirations and how did the band get together?
My favorite bands have migrated from REM when I was a kid, to Weezer when I was in high school, and now it's a dead tie between Foo Fighters and Muse. Of course there are a ton of other bands that I really like and you definitely hear in my music that I draw a little bit from each one. When people heard my first album, I was told by almost every person that I sounded like a different band that they knew I liked.
Due to the magical power of the internet, I was able to find the other three band members without leaving my room. My guitarist, James, found me on Bandmix and then looked me up on Facebook to get in touch with me. Shane and Dan responded to my Craigslist ads. I'm still blown away that I was able to find these guys so easily. There weren't a lot of bites on my ads and few of them ever followed up. It's incredible that the four of us have such similar music tastes and also get along. We have become good friends in the short time we've been a band.
How do you classify your music?
When anyone ever asks what we sound like we all say "Kind of like the Foo Fighters". Our sound is most like them, but I'm very proud of the fact that we really don't sound like anyone. I contribute this to my early point that I draw out little aspects of a lot of bands. If I HAD to classify it, I guess I would say that we play Heavy Alt Rock, but I'm not much of a fan of genres.
"Lost" MP3: http://www.skopemag.com/audio/01%20Lost.mp3
You say your an ego free band? Elaborate on that please?
Essentially, we aren't a bunch of prima donnas. We all get on each others case when mistakes are made and if someone's idea is shot down, it's never taken personal. Our practices can actually get pretty brutal with us joking around and making fun of each other.
Tell me about your current CD and new projects in the works?
We were fortunate enough to have a friend offer to produce an album for us. It's a huge step up from the bedroom recording that I have been doing up until now and the results are fantastic so far. My biggest obstacle with my first album was working alone and never getting feedback on the music. It's much easier to have someone say "Yeah, it should be like that" or "No, that doesn't sound right" than to have to make all the decisions on my own. The new music is definitely along the lines of the first album, but the softs are softer and the hards are harder. We are extremely excited to finish it and to start having people listen to it. As usual, it's the typical frustration that comes with hearing the music in your head for a long time before you get to share it with anyone else.
What do you want your music to say to people?
 
I write my lyrics with the hope that everyone will be able to relate to them. Music is essentially an expression of passion and I want my music to reflect that. As a rock band, we definitely want our songs to get people a little fired up; the kind of music that makes you drive a little faster and run a little farther and sing a little louder. On a personal level, my music is also a little bit of a documentation of my life and thoughts. There are certain lyrics that every time I hear, I will remember why I wrote that or what thought provoked that line.
Ideally, what would you all like to be doing 5 years from now?
 
Undoubtedly we would like to be playing and making music professionally. It's pretty obvious that this is what I want to do when we are in the studio for 10 hour days and I still come home and play guitar and write lyrics. I live for music and it would be a dream to be able to do it for a living.
 
www.noblitz.com
 
By: Diana Olson – diolson05@yahoo.com