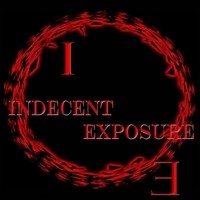 What do you get when you mix together elements of rock, alternative and metal all done in in a very new age kind-of-way?   You get Indecent Exposure and their latest effort 'Get Up' as they provide the goods Generation Z style.   The group is made up of three members: Jim Tye/DJTJ on vocals & bass, Jimmy Tye/Jay Jr on guitars, & Ben Abbott on drums.   This band formed in Vermont back in 2000 and they're coming strong in 2011 with their recent album 'Get Up'.
As I listened to this CD I noticed right away that Indecent Exposure had a definite edge.   The opening track "Wonder" starts up slow at first and then Indecent Exposure jumps right into the thick of things.   Right from the beginning you can sense that these three musicians are just havin' a blast playing music together.   The energy is there and the chemistry is most certainly there as this Vermont bunch are bringin' the noise.   The title track "Get Up" offers up a heavy guitar riff and an overall presence that will get your adrenaline pumpin' for sure.   On "Dance" you are receiving one hard-hittin' dance song with attitude and then enjoy a nice heavy metal vibe on "The Hate In Me".   The record ends in style on "The Bird (Live at the Track Side)" where you experience Indecent Exposure coming together perfectly as a band.   The song is not heavy by any means but just an all-around, bang-up performance by a trio of guys who just love to perform.   All I have to say is that I'm lovin' it all and Bravo!
The overall Indecent Exposure approach is definitely of a raw nature where you're picking up on that cool garage band appeal.   There are no fancy studio effects as this album proves that you don't always need well-polished production techniques to make a solid record.   Sometimes all you need is high-energy music that is live & direct to make you "Get Up" and "Dance".   I really enjoyed the guitar playing, no-nonsense vocals and drums that don't quit as Indecent Exposure just gives it to you full force.   I think this group needs to expose more of their metal sides because IE has got it there all locked & loaded just waiting to jump out.   I would have loved to have heard some more in-your-face, aggressive heavy metal bangers brought to you by Indecent Exposure.   In the end, I am extremely pleased with 'Get Up' and can't wait to see where Jim, Jay Jr and Ben take it next.   I say take it to the next level boys and just get down and rock out like there is no tomorrow!
By Jimmy Rae (jrae@skopemag.com)
[Rating: 4/5]