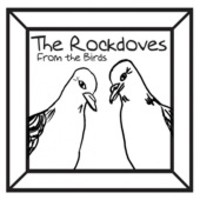 Coming off a children's album I recently reviewed, I am given 'From The Birds' by the Rockdoves.   Just as before I notice right away that the material is not cheeseballish or lame by any means but actually has solid substance for the entire family.   The Rockdoves mix together rock, blues and folk to make up a friendly sound that appeals to many.
The Rockdoves are a NYC-based duo made up of: Daniel Cole and Kim West.   Both members have said that they are creating "cool music for kids made with parents in mind".   Their debut release 'From The Birds' exemplifies music that is both fun & educational for ALL.   West and Cole are considered to be "kindie" artists which combines kid's tunes and indie music.   These "kindie" singer/songwriters are growing in popularity today and The Rockdoves know just how to work this particular system.  
Right off the bat on "So Many Ways To Say Hi" you're hearing very nice harmonies & melodies that come across as musically pleasing to the listener.   You're also finding out many ways to say hello in other languages which proves to be extremely helpful.   Next up you have "Don't And Do Blues" where you find out Jimmy's a bad boy but I swear I'm not!   The song includes a catchy bluesy rock vibe where Daniel and Kim say no to bullying and yes to "lending a helping hand…to be a real friend".   On the track "See The Seasons" you will get a joyful approach toward the changing of seasons where one can embrace mother nature in all its glory.   You'll feel "Easy like Sunday morning" on "Lazy, Dreamy, Silly" and then it's Animal Crackers time on "Giraffe Laugh (and other animal sounds)".   The song "My Home" is one of my personal favorites on the record because the NY duo actually captures that true feeling of comfort & warmth associated with one's home.   Home is where the heart is and The Rockdoves prove this with a wonderful message & meaning being delivered along with comforting musicianship.   You get the perfect exit on "These Doves Have Got To Fly" as we happily say goodbye and receive a nice whistling effect to help liven things up.   For some reason I started to think of Guns N' Roses "Patience" here just because of the whistling in the beginning; far stretch from a kid's album I know!
I have to say that I am majorly impressed with The Rockdoves and all 10 songs on 'From The Birds'.   The singing from both Kim West and Daniel Cole really blew me away and I really enjoyed the various guitar parts throughout the record.   West & Cole are serious singer/songwriters on a mission to help bring families together all over the world through their music!   The song selections and just the way the whole record was put together made it crystal clear to me that The Rockdoves have found their niche.
By Jimmy Rae (jrae@skopemag.com)
[Rating: 5/5]