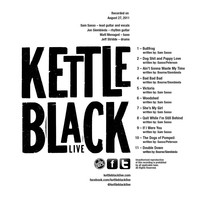 Kettleblack is a full on rock n roll band with bluesy undertones and contagious melodies. The band consists of Sam Sasso, Matt Menaged, Jon Siembieda and Jeff Stridde. These Southern California rockers are invading the airwaves with grinding guitars and solid beats.
This 11 song CD is hard core from beginning to end. If you want to sit back and relax with a glass of merlot then keep looking. This CD is the true definition of what rock is supposed to be all about. The music world sometimes has different ideas of what popular music should be. This band is in your face showing what there musical ideas are; it may not be what top 40 radio considers popular, but it should be.
I'd love to be a fly on the wall while these guys were recording this one. How much fun would it be to see how these master rockers created their art. This band's music and vocals mesh so well together you forget there is more than one person. The production is of the highest caliber. The songs are unsurpassed. They have great lyrical content ably backed by euphonious magic.
These four guys define unity as a band. From beginning to end their songs pound through the speakers and consume the room. Next thing you know you have forgotten all about your crappy day and your singing along. The best way to work out some aggression is to get Kettleblack's new CD and allow the music to be your preacher.
Rebecca Hosking – hoskingrebecca@gmail.com
[Rating: 5/5]