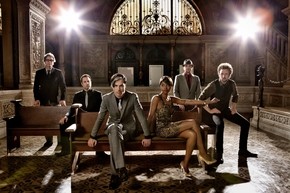 Their first performance was at Hollywoods Hotel Cafe and from their they have toured with Maroon 5, shared the stage with Sharon Jones and the Dap Kings and performed on KCRW's "Morning Become Eclectic".   Labeled a 'Soul Man' in a local recent review, Fitz and his Tantrums are much more than a soul flavored pop troupe.
Fitz and the Tantrums were in Minneapolis this summer playing at one of the biggest downtown outdoor concerts of the year and continued on touring around the world and the country.   In September they were on the Late Show with Jay Leno and just recently received an AMA nomination.       This band is HOT!
Fitz And The Tantrums – "Don't Gotta Work It Out"
SKOPE IT HERE!
 
They are: Fitz, vocals, Noelle Scaggs, back up vocals/tamborine, James King, sax, Jeremy Ruzumumna, keyboards, John Wicks, drums and Joseph Karnes, bass.   The following interview was provided by drummer John Wicks.
 
Tell me how you got started and who your musical influences were?
I lived in New Orleans as a young child and was fortunate to have a mother who was extremely enthusiastic about music. Anywhere there was music to be heard, mom was there with me in tow. So at a very young age I was exposed to jazz, gospel, and rock in it's purest form. The drummers in the 2nd Line funeral marches have this innate funkiness that drew me to want to play the drums. As a result, my musical influences initially were drummers from New Orleans. Specifically Vernell Fournier, Earl Palmer, Idris Muhammad. Later, we moved to Bainbridge Island, WA near Seattle. It was major culture shock for me. Looking back, the isolation of living on an island and having it rain most of the time, made me somewhat of a hermit with my drums which was a blessing in disguise. I also discovered De La Soul's "Three Feet High And Rising" and The Beastie Boys' "Paul's Boutique" around 1993 and began a love affair with researching samples and liner notes that still inspires me today.
 
Who do you compare your music to or/ classify your style?
In order to work consistently as a drummer, I've always to "speak without an accent" in as many musical styles as possible. Fitz & The Tantrums gets categorized as "Indie Soul Pop" which I think is somewhat accurate. I would say that sonically, our record "Picking Up The Pieces" is definitely influenced by the Motown Records aesthetic, but we are products of the 80's and that writing influence is definitely in there as well.
Tell me about the band in general?
Fitz & The Tantrums is a rocket ship! I've never been a part of something that has built so much momentum this quickly. It is a band of bad ass musicians who do it for the love and fun of it. When you see us live you'll feel that love from the first note.
 
Tell me about your summer touring around the US and the world?
We really have not stopped touring for the last 13 months! This last summer has been especially rewarding because we started revisiting some cities for the second time and can really see the fruits of our labor in the attendance and the amount of people singing every word to every song! Very thrilling. We also traveled to Australia, and Europe for the first time and were blown away at the response.
What do you want your listeners to get from your music?
Joy!
 
Any new cds in the works?
Yes, as a matter of fact we just started recording this week! What I love about this band is that when we have a very rare week off from touring, everyone chose to go into a studio and spend even more time with one another, hah!
Diana Olson – diolson05@yahoo.com