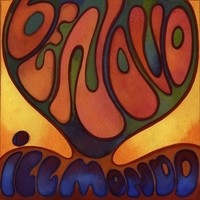 Johnny Igaz and Jeff Smothers is Ill Mondo, a duo out of Oakland, CA. They have an edgy eclectic sound with screaming guitars and contagious rhythms. These two guys have the act of collaboration down to an art; crediting over 25 musicians for their work on their latest release, "De Novo".
There are strong influences from past greats. The first song, "The Unblinking Eye", is reeling in new age nuances that create a sound reminiscent to the Talking heads. However each song has a different vocalist which breathes new life into each tune.
There is quite a collection of reverie enticing you to get lost in the moment. The entire CD is dreamy, reflective and consumes your brain. It is hard to stay focused on anything else going on around you. It keeps drawing you back at the end of each contribution; continually making you eager to hear the next explosion.
There is no specific genre that best suits this collection. There is a touch of jazz that broadens your horizons to deeper depths. It scales your thoughts and invades every part of you. There are spooky moments and pop moments that wrap around some hard core instrumentation.
Johnny and Jeff have successfully created a whole new world of music that may never be replicated. Ill Mondo is a full on listening experience. Grab their CD and get ready to sit back and relax in the world they have created for you. You must experience the ride with an open mind that is ready to be taken in numerous different directions.  
Rebecca Hosking – hoskingrebecca@gmail.com
[Rating: 3.5/5]