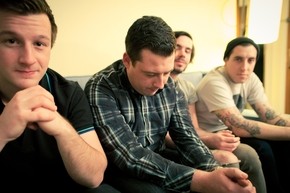 New England post-hardcore quartet Make Do And Mend is excited to unveil the video for the single "Transparent Seas" exclusively at the band's YouTube page.
[youtube _R3-xxSD5gM nolink]
The second video from the band's highly touted full-length debut End Measured Mile (Paper + Plastick, 2010), vocalist/guitarist James Carroll says, "We already did a live action video for the record, and it came time to do another. We decided we wanted to do something that not a lot of our contemporaries have done, so we took the leap and trusted a friend with the project." The result is the computer animated video created by motion graphics designer Matt Frodsham. Carroll explains, "The song itself is about the inability to believe in a higher power, but being frustrated by the fact that that type of belief affords the believer a great deal of comfort and safety. I think that the vibe of the video fits those feelings very well." While the new video is for the album version of "Transparent Seas," an alternate, acoustic version of the song will appear on the band's recently announced Part And Parcel EP, out November 22nd on Paper + Plastick.
photo credit: Frank Boucher