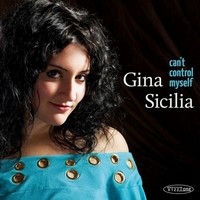 March saw Gina Sicilia release her third studio album, Can't Control Myself. What's interesting perhaps most is that this is her first album to not debut within the top 10 of the Living Blues Chart. What's important to note is that it did debut at number 11. Clearly riding the success of her first three albums, this release is more bluesy-laced tunes that highlight Sicilia's powerful vocal delivery backed by myriad of instrumentation and her adept songwriting ability.
Opening to the darkish "Addicted" and its fuzzy, honkish guitar work, Sicilia wastes no time delving into the ethos of the anecdotal song. The color of the lyrics showcases Sicilia's songwriting with: "I take a puff from my camel/Pop and drink up all I got/pull a dollar from my pocket/put a quarter in the slot." All that and I haven't even mentioned her vocals–vampy and coquettish in delivery, Sicilia's voice is one that makes you turn an ear toward the radio. "Members Only" opens to slight percussion and backing Wurlitzer before the vocals conjoin with lap steel. The down tempo track is both a vocal and instrumental highlight. This track makes you think of the last tune played before the lounge closes. Title track "Can't Control Myself" opens to acoustic strums and more backing Wurlitzer. Slight electric and baritone sax joins the mix with intermittent fills in what is in essence, a bluesy toe tapper. "Gimme A Simple Song" (which registered in the top 100 of more than 15 million MP3s available on Amazon.com) is another down tempo track comprised of myriad of instrumentation. The demure intro falls to the background with Sicilia crooning in a blues/lounge vocal delivery. Arguably the catchiest tune on the disc.
Sicilia doesn't fail to delivery on this, her third outing. The instrumentation is there. The arrangement is there and the vocals are near astonishing for a 26 year-old. The album is clean and contains just the right amount of polish all the while allowing some of the raw grit of the instrumentation to stay the appropriate amount of "dirty-sounding." For lack of better words, this really is a complete album.        
by Chris West – cwest@skopemagazine.com
[Rating: 3.5/5]