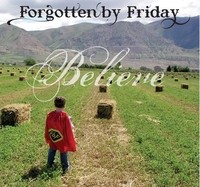 Forgotten By Friday has gracefully made their presence know through the New England area. This five piece band has a sound as full as an orchestra. The band consists of Dominick Mauro, Ryan Schnieder, Michael Giamaettei, Maria Soaft and Tom Forst.
Dominick belts out the lead vocals with a raspy edge that exudes texture. He is accented with Maria's harmonies. The two voices are entwined together like leather and lace. They have a gritty style with graceful overtones, which creates a sound that is fresh and new. It feels as if these people were born simply to be in this band.
The songs are incredibly well written. They tell stories of hardships, dreams and aspirations. Little pieces of every day living packaged in a musical journey executed with truth and passion. They have hooky choruses that suck you in until your lost in their wonderland. Some times in these trying periods of our lives the beacon of positivity is so enlightening. This music is stripped down and gets right to the heart of the matter. Their professionalism and craftsmanship is an artistic masterpiece.   This band is here to show you they have lived it; been there done that and are now breaking new ground.
FbF are here to play and certainly have the capability to hold their own. This Americana band is taking their genre of music to new heights. They are not only a band, they are a religion. It is a light in the darkness and hope for the future. Their talent is undeniable and performance is of the highest caliber. Forgotten by Friday will not be soon forgotten. The fact that the name of the band is so cool is an added bonus.
[Rating: 3.5/5]
Rebecca Hosking – hoskingrebecca@gmail.com