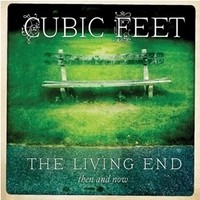 Cubic Feet have an interesting story. This popular 80's band were making waves with several releases under their belt.   Then their fourth album, "Superconnector" was released on Sept 11, 2001. The one day when our world changed as we knew it and music was the last thing on everyone's mind.
Now ten years later Cubic Feet is back with a double disc release of, ´The Living End: Then and Now". The CD is celebrating some old tunes and surprising us with some new ones too. The second CD has 8 new tunes never heard before. They have definitely grown over the years. I am impressed with the strong lyrical content; celebrating life and screaming for us to let go of the little stuff.
This duo consisting of Mark Davison and Woody Lissauer are back at it with their signature energetic sound. They still have tight harmonies and blend so well together you almost forget you are listening to two voices. The tunes take you back to the Bryan Ferry era and drive home some positive messages. Exactly what the doctor ordered in our current economic woes.
These tunes are up tempo bouncing concoctions that invade your body and usually ends in dancing uncontrollably. Might as well give up trying not to let it take over, it is a futile effort. Give up and give in. Cubic Feet are here to entertain, your job is to sit back and enjoy. It is always refreshing to find a band that really likes what they do and you can feel it when you hear it. This is one of those bands. Let the toe tapping commence.
By: Rebecca Hosking [hoskingrebecca@gmail.com] [Rating: 4.4/5]