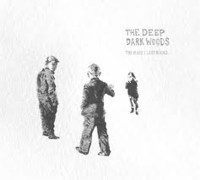 The Deep Dark Woods don't really seem like a barrel of monkeys to hang out with, judging from their latest full length, The Place I Left Behind. A largely sombre affair, with tales of lost loves and penniless nights, the DDW probably aren't incapable of having fun, but instead they let their pain speak in volumes. The result is a classic (And classically-influenced) record that continues the tradition of fine, slow rolling song-writing which this five-piece is known for north of the border.
Combining ballads of hard-as-nails men ("The Ballad of Frank Dupree") and quicker, acoustic-based tales fit for the road ("Sugar Mama") The Place I Left Behind moves with tranquil motion, but still speaks a powerful language. No track should be overlooked; leaving no stone unturned seems to be something of a theme with the DDW. Their craft is now so fully-realized that they manage to explore every option within each song and always find the best results. "Westside Street," "I Just Can't Lose" and the title track are longer, drawn-out affairs that never bore. Instead, they give pain its due.
The Deep Dark Woods are the wrong choice to play on your Friday night, unless of course, you've just been left by your love, the bank has foreclosed on your home or there is a storm brewing outside that shows no sign of letting up. We may not look forward to these times, but they happen. Let's just be eternally grateful that there bands like the Deep Dark Woods and albums like The Place I Left Behind to guide us through the torturous emotions they produce.  
Joshua Kloke – joshuakloke@hotmail.com
[Rating: 4/5]