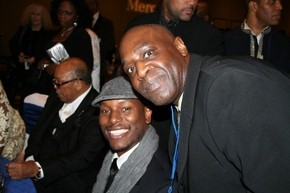 Okay it sounds corny, but at least someone took the time to chime in on our comment line: "You guys keep doing it! Is there no end to the ammunition you are packing?" Hmmm, let's think about that one: no, there isn't! Just in case you're wondering, last month's "featured picture" features our own soaring eagle, Elliot Holden, www.elliotholden.com, www.youtube.com/results?search_query=elliot+holden&aq=f.
NOW ON TOUR: latest stop–October 6, Smith's Olde Bar, Atlanta, GA. (Stunned believers now "Holden on" at Georgia State University.)
Yo ATWiLL, let's run that MUSICOLOGY 2101 program from where we left off last month… Okay L.A., I'm hitting PLAY: After "The Q Directive," celebrities picked their egos back up at coat check on the way out of the recording studio, leaving Lionel Richie and Quincy Jones in the studio tightening up the track until the next morning. Recording in Hollywood's A&M Studios, all of the artists were arranged choir-style with a half-dozen microphones in place for the song's chorus. In a little over a month after being recorded, We Are the World arrived in stores. Needless to say, Harry Belafonte's dream parlayed itself into an industry phenomenon as the single sold over 800,000 copies between Thursday, March 7th, and Sunday, March 10th, 1985. Entering the Billboard singles chart at #21, it became the fastest-rising Billboard #1 single in 10 years.   Although a fierce bidding war for the record's release probably took place between record companies like Motown (Lionel Richie's label) and Epic (Michael Jackson's label), Columbia Records (Epic's sister company) won out. To comprehend the significance of the bidding wars, just figure in the economics:
-By the new decade CBS Records was sold to the Sony Corporation for $2 billion. It's been rumored that Sony made their money back the following year
-By mid-May, Columbia Records presented a check to the United Support of Artists for Africa Foundation in the amount of $6.5 million. This was only two months after the initial release date.   Additional sales netted more than 7 million singles and nearly 4.5 million albums.  
-Within a year, media and product sales generated over $40 million. Twenty-five years later, sales topped out and had generated over $60 million
Next time, we'll arrive at the conclusion of this saga, and then we can plan on taking an inside view of WE ARE THE WORLD 2010, or we can go in another direction — it all depends on you…
VIDEO OF THE MONTH: Elliot Holden — SESAC Show
[youtube ogiaV5tBbLI nolink]
PICTURE OF THE MONTH: SOUND TABLE MEMBER and PEACH CITY MEDIA'S KNIGHT WADE JONES with TYRESE GIBSON and QUINCY JONES
PICK HIT MP3 of the week: The sounds of our partners at PEACH CITY MEDIA https://skydrive.live.com/?cid=2cf9668d3ca64ef1&Bsrc=Photomail&Bpub=SDX.Photos&id=2CF9668D3CA64EF1!134 –for bonus points,
https://skydrive.live.com/redir.aspx?cid=2cf9668d3ca64ef1&page=play&resid=2CF9668D3CA64EF1!134
MKM HotLinks: www.elliotholden.com, www.forcefulworld.com, www.myspace.com/chimeremelodies, www.reverbnation.com/jackbeazly, www.reverbnation.com/spliffermanakajoeblack
By: LA jackson – musicmon101@gmail.com