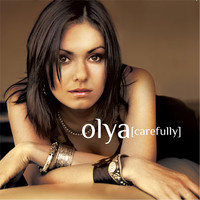 Despite coming from a musical family, Olya Kisseleva was the self-described "practical one." And though she experienced a deep musical upbringing, those pursuits were seemingly laid to rest when she moved to the States. After graduating from Boston University and relocating to New York City, her urge to pursue music resurfaced and she penned her first song with the helpful urging of a friend. Finally, gone were the days of Finance jobs and she spent the next several months writing [carefully]–her debut album that is comprised of "six different stories, six different characters" through six-tracks of her deep, sultry vocals nicely laid over backing jazz and ethnic melodies.
Opening with the vampy "Independ-a-nt" Olya wastes no time launching into the Jazz, lounge musicality of the album with a simple backing guitar and slight hand percussion. What stands out most (and is clear foreshadowing of the album) is Olya's vocal delivery–a combination of English lyrics spiked with her native Russian dialect. Whether accidental or playing to her natural strengths, the combination of the two adds a sexy appeal to the lyrics and makes them fit naturally with the ethos of the song. "What You Do" opens with the scratchy sounds of an old LP on a record player and weepy string work in the background. Through the verses, the strings pluck along through the melody with backing percussion laying the song foundation. Backing bells make intermittent appearances with the choice of instrumentation adding a vintage feel to the song. But again, this is an album about vocals and they indeed stand at the foreground. Saxophone and brush snare work open "Let It Go"–a contemporary take on a traditional lounge track. The sax stays just below Olya's vocals and carries the track through verse and chorus with intermittent fills. Again, the appeal here is the slight appearances of her Russian-tinged English lyrics.
Certainly not the "only in America" artist stories out there, but Olya's stands out in that she has the goods to back up her musical pursuits. Her voice is clearly the featured "instrument" of the album but the clever choice of instrumentation and the throw-back, vintage feel of the songs adds a special flare to what could have otherwise simply been a album of torchy, lounge attempts that may have fallen short. The only shortcoming of the album, its brevity, isn't really a shortcoming at all. I just wish this were a 12-track LP. But something tells me Olya has more songs in her and the full-length will come soon enough. I read that "many, many months" were poured into the making of this album. I would say they were time well spent.
by Chris West – cwest@skopemagazine.com
[Rating: 3.5/5]