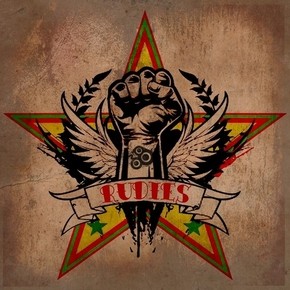 It seems safe to say amongst most people, the unmistakable sounds and lyrics of Reggae tend to conjure the same mental images/emotions. There are the Caribbean settings, island grooves and socially conscious messages, all piped through the lyrical delivery of a dreadlocked singer backed by the ubiquitous Tropicalia instrumentation that comes along with the genre. That being said, most people would be hard-pressed to imagine Roots Reggae from the heart of Bluegrass and Bourbon country. But for Kentucky Reggae/Ska outfit Rudies, it is the message of the genre that takes precedent, reinforcing that the music is about the ideas of the head and the emotions of the heart, regardless of where it is made.
So when the group of like-minded musicians came together, they purposefully melded their influences of Reggae, Ska and Punk into a sound that was as focused as it was far-reaching.
[youtube AoK0oUJj_9Q nolink]
"We just clicked as far as writing goes and we play well together. Occasionally we surprise each other with some off the wall stuff but for the most part writing has always been very, very easy, organic and it just feels natural," lead singer Saint Jerrod said. "But we just feel that if you have an audience it's important to say something to them… to give them something to think about. Besides, there are enough bands out there singing about partying and everything that comes along with that."
 
Following in the vein of politically charged bands the likes of The Clash, Bad Brains and the Reggae greats that came out of Jamaica, the Rudies main focus is on their own message and their responsibility to get it out to their fans.
"It just seemed to me that those types of bands just had something to say," he said. "And I liked the way they could get their message across over a really cool beat. I think the way we like to mash things up, it's our way of letting our audience know where we come from and because of that we get a nice mix of people; dreadlocks, traditional skinheads, punks… it's a really cool crowd. Very eclectic; very racially diverse."
 
"We just want to put out a positive message," Jerrod continued. "It's not that we're trying to tell you what to do, we just want you to think about it. I think your relationships with your fellow man and fellow sisters are much more important. How you treat one another and how you deal with people that have much less than you… I think that's more important than a lot of what you hear in standard radio fare."
Jerrod et al. are riding their last release Attilla The Dub–an eight-track album that highlights the individual facets of their signature sound. "We wanted to put out something that reflected every nuance of what we're doing," Jerrod said. "We wanted to show our musicianship of course, but we also wanted to show where our heads are at." The title track "Attilla The Dub" spotlights the Ska side of things with blaring horn work and the Rock side with electric guitar wails. What's especially noteworthy is that the rhythm section also follows the style changes from the verses to the chorus. "Livin' Under Pressure" plays out simply through both the vocal delivery and musicality. The familiar staccato Dub beat and instrumentation yield to the lyrics, which stand at the foreground of what can only be compared to a classic Dub style track. "Phsyco Babylon" opens to quirky bent-note guitar work before surrendering to a down tempo, Melodica filled tune all behind Jerrod's effects-laden vocals. Again, the instrumentation is slight and lies just beneath the lyrics, with intermittent guitar and key fills.
While Rudies are riding their last album, they certainly aren't ones to rest on their laurels. "We're currently working on our new album and mainly it's going to have more songs on it, more keys on it and you'll see more of the Punkish/Ska essence," Jerrod said. "Of course we're trying to delve into the social topics and Rudies culture, but we're really into the idea of letting go of white kids or black kids listening to a certain type of music because it kind of traps people into listening to something where they don't want to listen to anything else or not give anything else a chance. We're pretty proud of it. And next spring we're releasing a fully instrumental album. Like a roots oriented, total dub record that we're going to put on vinyl."
 "Other than that, we're just keeping busy, playing out close to home and continuing to work to get our stuff out there," he said in closing.
"Message" received indeed.  
By: Chris West – cwest@skopemagazine.com