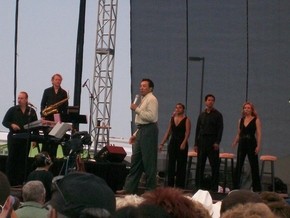 A true music legend was in the house the night of July 2 at Hoosier Park Racing & Casino in Anderson, Indiana.   I speak of none other than the "King of Motown" himself Mr. Smokey Robinson!   No opening act needed here as you would get a full catalog of music from one of the top songwriters of all time.   This was surely going to be a night to remember.
Once again the Director of Public Relations Grant Scharton went all out for my guests and I.   Mr. Scharton and Hoosier Park Racing & Casino threw down the welcome mat and provided the "star" treatment.   I can't say enough good things here but thank you so much for your wonderful hospitality.
Smokey started up the show with the song "Going to a Go-Go" where you see two eye-catching backup dancers grab your attention right from the Go-Go!   I'd also like to add that the backup singers and band all sounded wonderful.   At 71 years young, Smokey proved that he's still got the stuff!   I was simply amazed at how good his voice sounded and how much energy, passion and soul he brought to the stage.   Smokey did not miss a beat as he was gettin' down and feelin' the groove all the way!   Smokey Robinson was in the zone that night with himself and he was also able to connect with the audience on a higher level.   This was an incredible experience for my guests and I and we're just lucky enough to say that we witnessed greatness firsthand.   Smokey showed us all how it's supposed to be done!
Many of the classic solo & Miracles hits were covered such as: "The Tracks of My Tears", "Cruisin'", "The Tears of a Clown", "I Second That Emotion", "You've Really Got a Hold On Me", "Ohh, Baby Baby", "The Love I Saw in You Was Just a Mirage", "Quiet Storm" and even some recent material like "Love Bath" and "Time Flies" off of his latest albums 'Time Flies When You're Having Fun' and 'Now and Then'.   Mr. Robinson even covered a song he wrote for The Temptations you may have heard of, "My Girl".   Smokey actually explained how he always wanted to be one of the Temps and how he probably would have been pretty good.   He even had very interesting stories about Stevie Wonder and he spoke of these times with such excitement.   This man seemed to have an aura about him where you were literally hanging onto every word that he spoke.   You could sense his extreme love for the art of music particularly writing songs as he made his presence known to the entire audience.   The joy that Smokey has toward singing & performing music for people came through loud & crystal clear at Hoosier Park's Summer Concert Series.   Live music history right in front of me!
Smokey Robinson is a man of many talents from his golden days with The Miracles to his successful solo career and all the while being an accomplished songwriter for not just himself but many artists.       In 2009 he celebrated the 50th Anniversary of Motown Records and 50 years in the music business which is one amazing milestone.   Smokey has achieved so much as a music artist such as: Grammy Awards, 37 Top 40 Hits, member of The Songwriter Hall of Fame and The Rock And Roll Hall of Fame and just recently Smokey was honored to find out he would be receiving the 20th ELLA Award named in honor of the late, great Ella Fitzgerald.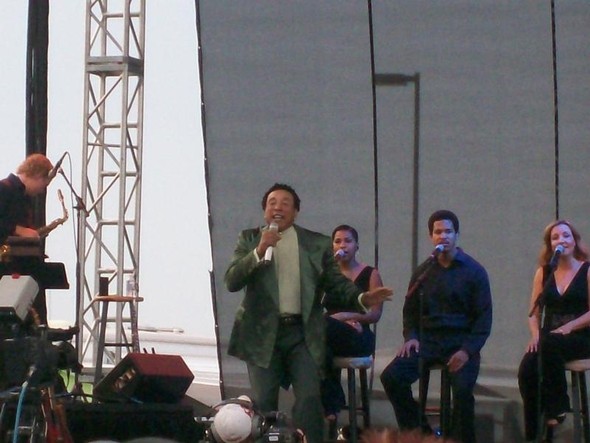 Smokey Robinson has seen it all and done it all but he's not done yet!   This music legend continues to amaze fans everywhere and I can attest to that!   I do have to say though that it's about time to induct The Miracles into The Rock And Roll Hall of Fame so come on now!   I'd like to leave you with some inspiring words from the music master himself: "Above all, I'm a songwriter.   It's my gift from God.   Even when it's labor, it's a labor of love."   Thank you Smokey for a night we won't soon forget!
By Jimmy Rae (jrae@skopemag.com)