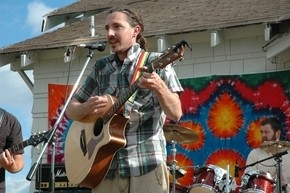 This is an exciting week for Justin Stang. For those in the know, Justin is the lead singer of Sideways Reign. Justin is crossing the USA to play two shows in NYC on September 18 & 19. Skope TV was able to get on the phone with Justin befoe he begins his journey eastbound. Join us as Justin talks about the big shows, his set list, his solo ambitions, politics, and much more.
[youtube Jj1dFrNFGqA nolink]
Since founding the band Sideways Reign, Justin Stang has taken stage in five countries; including Costa Rica, Cameroon and Japan. Their debut, A Stand for All Stages has upwards of 1,900 downloads from 78 countries. They've sold over 2,000 albums without distribution or the backing of a record label; a testament to their dedication and quality. Sideways Reign has also made a home on the radio waves, including spins on 45 national independent stations and the subject of conversation on ESPN Radio's Tony Kornheiser Show.
Show details: http://www.facebook.com/justin.stang
Justin Stang of Sideways Reign (solo, acoustic)
Live @ Googie's Lounge above The Living Room
154 Ludlow St. NY, NY
Sunday, September 18th, 830pm (45 minute set)
21+, one drink minimum, $5 suggested donation
Justin Stang of Sideways Reign (solo, acoustic)
Live @ The Bitter End
147 Bleecker St. NY, NY
Monday, September 19th 730pm (45 minute set)
21+, $5 at the door