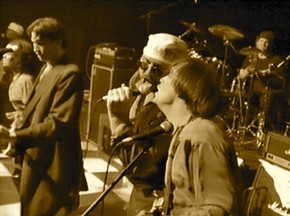 If you haven't heard of the group Cutting Edge yet then you need to open up your eyes & ears and listen up close!   The band has an incredibly eclectic style that has been catching on real quick!   Cutting Edge is the first Indie act to have two hit singles, "Without You" & "If The Walls Could Talk", debut inside the Top 20 of the Billboard Hot Single Sales Charts!   They even beat out Lady Gaga for crying out loud!   One impressive feat for any musical act let alone an Independent group with no major label attached to their name.   You will also be the first to get an exclusive, never-before-told story about the song "Losing You" right here on Skope!   So as you can very well see Cutting Edge has made history here and on that note I hope I have your full & undivided attention now.  
Jimmy Rae: I have to ask first where the name Cutting Edge came from?
Cutting Edge: The band concept was to develop a rock band with chat rock-type vocals, and have actual rappers doing the chorus and also producing dance remixes of the various songs.   Not many people were doing that style of music.   One day a friend of ours who worked over at Warner Brothers Records was in the studio and he called the type of music we were developing "on the cutting edge of a new style of music", so we took the name, Cutting Edge.
Jimmy Rae: Next we would all love to hear the history on your band and how it all came to be?How many members in the band past & present and how many years have you been playing together?
CUTTING EDGE is an American rock band formed in Los Angeles, CA and Tucson, AZ. As of 2011, they are still recording and making concert appearances.
THE BEGINNING: D.C.SHUFFLE
Cutting Edge was formed by Liza Pesnell "Leli", William Zimmerman and David Pesnell in 1997 for the sole purpose of recording a funny song about the politicians doing a dance step called the "D.C. Shuffle". Upon completion of the song and having dance re-mixes completed, the song was distributed to 500 various people in the music business and friends as Christmas presents. Unintended by the three members of Cutting Edge, the song exploded on the dance charts across the United States, college radio stations requested the song, which they were happy to supply and before anyone knew, the song was a hit at college radio stations and hit several dance charts at Number 1. The intent was never to become a band, the intent was just to have some fun with the song with a few friends.
THE ALBUM: HUMONGOUSLY YOURS
The success of the song, "D.C. Shuffle" caught everyone by surprise and after a couple of months of discussions, while the song was still charting, they decided to do an album to see what would happen. William Zimmerman and Liza Pesnell started writing songs for the band while David Pesnell formed a record label called Thunder Quest Records and they lined up their own publishing company called Magenta Rose Publishing. The success of the album, called "Humongously Yours" stunned everyone with the project. The first release, "Without You" soared up the R&R AC and POP charts to number 16, while songs like "It's Time", "Judas of D.C." and "Abuse of Power scored on the rock charts. The biggest surprise was a song called "Love Police" that hit number 20 in the U.S. and charted for over a year, a feat that only Cutting Edge as an indie band has every accomplished. Another success of the album was that college radio stations seemed to embrace the band's "in your face protest songs" as the band received college radio play for over a year. Cutting Edge did a limited concert tour that year.
[youtube fqHIAvopMxY nolink]
THE ALBUM: THE BIG 14 N' MORE
The Big 14 N' More continued the success of the band and exposed them to international markets. The biggest success for the band was the song "Every Time I Try" that hit Number 1 in the international commercial radio (Europe, Asia and Australia), but also the song hit Number 6 in the U.S. commercial radio market, while the album did well at college radio. The Big 14 N' More also featured the songs "Goliath" and "D.C., Why Can't You See" carrying over the protest songs of the band, while at the same time the band broke into other veins with the ballads "Your Love Is My Oxygen", "Losing You" and "Every Time I Try". Other songs included "Venomous Love Affair", "Our Life Is Like A Motion Picture" and "Humongously Yours".
THE ALBUM: CENSORED BY THE U.S. GOVERNMENT
Censored By The U.S Government took the band in a different direction. The album was designed for the college radio market and consisted of songs that could be described as "in your face rock" with the band going towards a harder edge to their music. While songs like "F – – – The IRS", "Puppet of The Beast" and "She Wore Red" gave a fun paced rock sound with heavy guitar emphasis, the album also had a ballad called "Will Work For Food", a ballad about the hunger problem in the United States. Another interesting aspect of the album is that they included a dance remix of the song "F – – – The IRS" by remixer, Ricky Ric. The album did well at college radio stations.
THE ALBUM: CUTTING EDGE GOES TO COLLEGE
"Cutting Edge Goes To College" was shipped to college radio stations in the U.S. and Canada the last week of August of 2011. The album contains a couple of live versions of songs by Cutting Edge as well as remastered songs of "Venomous Love Affair" "Losing You" and 21st Century Woman" and some new songs. The album contains some dance remixes of various past songs of Cutting Edge that have never been released.
THE ALBUM: CUTTING EDGE RELEASED,ALIVE!
"Cutting Edge…..Released Alive!" is a new album being released in December of live recordings from Cutting Edge concert dates and is being released to college radio stations in the spring of 2012 and the band is also releasing new material to commercial radio stations at the same time. The album consists of live versions of the songs "Love Police", "It's Time", "Judas of D.C.", "If The Walls Could Talk", "Our Life Is Like A Motion Picture", "Without You" and others. Cutting Edge has also released some of these songs on videos with some doing extremely well. In mid January, the band put new songs on their myspace site. The band's fan base is consistent and strong.
AWARDS
Cutting Edge has received several awards over the past ten years including having "Every Time I Try" being nominated for IRBI Song of the Year. The IRBI named "Without You" song of the year and Zimmerman and Liza Pesnell were IRBI songwriters of the year in 1999. "Love Police" was nominated for Song of the Year in 2001 with its' dance remix nominated as The Best Dance Remix of 2001.
CONFUSION OVER CUTTING EDGE:
One of the major problems fans of Cutting Edge have faced is at one time there were two or more bands and/or individuals calling their band or themselves Cutting Edge. The only albums at this time that this Cutting Edge has recorded are listed above and should not be confused with any other Cutting Edge band. The band of this particular article features David Pesnell, William Zimmerman and Liza Pesnell. If your looking for the Cutting Edge that has recorded the above listed albums and songs, make sure you are buying the right music from the right Cutting Edge. Several retail sites have confused some of the albums and songs of Cutting Edge with other bands and individuals that call themselves Cutting Edge. Whether you are a fan of the Cutting Edge of this article or another Cutting Edge, take a minute and make sure you are buying the right music from the band you support. ??More info can be found on Cutting Edge at the following websites: ?(Update — From what we understand as of 2011, there is no other band by the name of Cutting Edge. From what we understand, the other two bands calling themselves Cutting Edge have broken up or changed their name)
Jimmy Rae: For new listeners wanting to check out your music how would you best describe the Cutting Edge sound & style?
Cutting Edge: The best description of the music of Cutting Edge is "Eclectic". We have songs that are considered to be rock songs, others fit alternative rock and yet others have been described as R&B and love ballads. Throw in the facts we also do dance remixes of the various songs and we are a band that has songs cross several genres of music.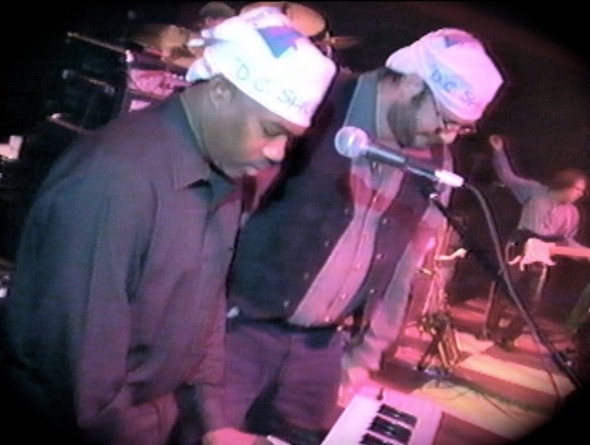 Jimmy Rae: I saw that you guys have had 2 singles "Without You" and "If The Walls Could Talk" on the Billboard Top 20 Singles Chart and wanted to ask where they are currently positioned and where did they peak at?
Cutting Edge: Both songs entered the Billboard Hot Single Sales Charts on July 7th. As of the last week of August, they are still charting inside the top 20. "Without You" peaked at #7 and "If The Walls Could Talk" peaked at #11. Also, "Without You" was on the Internet Radio Charts, spending 6 weeks at #1.
Jimmy Rae: I have to say that I was very impressed when I read that Cutting Edge was the first Indie act to have two songs debut inside the Top 20 Charts in the same week! How does that really feel? Feel free to let all of your emotions out here!
Cutting Edge: It was very exciting and also very frustrating for the band. On the good side, we created a little bit of history in music by being the first indie band to accomplish this feat. We were happy, excited and in some ways, felt that we had done the impossible. But it also was frustrating. Billboard told us they would not do any announcement that we had made indie history when we had both songs debut on the chart the same week; we were told that if we had accomplished this feat while being signed to a major label, they would have covered the event. Two songs inside the top 20 of the Billboard Hot Single Sales Charts for 7 weeks and no mention about it in the main stream media. It was very frustrating for us. What surprised us is that we even received very little recognition from the indie community as a whole.
Jimmy Rae: All this recent success and no band manager, booking agent or PR firm so how do you do it?
Cutting Edge: I think our current success is due to a lot of hard promotion of the band and music; and the acceptance of the band's music by internet radio and sites. According to Mediabase, the company that monitors radio stations in the U.S, our songs were receiving over 4,500 spins a week at internet radio stations in the U.S. and this figure could triple when figuring in the internet radio stations that are not reporters and internet radio stations outside the U.S. I feel the other thing that helped promote the band is that our videos are on different sites around the world. At last count "If The Walls Could Talk" was on over 80 video sites, including China, Japan, Philippines, South Africa and Ireland. Finally, I feel the fans of the band have been very supportive of the group. There are a few fan page sites on the internet and various internet sites, such as Soundcloud and Reverbnation have helped the band greatly in getting more fans
Jimmy Rae: What are you guys into besides music?
Cutting Edge: Liza's biggest interest is traveling, fishing and shopping. She had actually made trips to the Turks and Caicos Islands, The Cayman Islands, Bahamas and Alaska to go fishing. William is into traveling and his family. David, when he has available time will travel to his second home in the Turks and Caicos Islands and can usually be found in Las Vegas, clubbing and gambling.
Jimmy Rae: Any interesting stories you'd care to share with the Skope readers? Any random thoughts that come to mind would be fine; who doesn't love some juicy gossip! LoL
Cutting Edge: One interesting story is that the first album was recorded at Lonzoland Recording Studio in Compton, CA. The studio is owned by Alonzo Williams who was in the group World Class Wreck'n Cru with Dr. Dre. Several of the west coast rappers got their start in the studio. Even though we consider ourselves a rock band, it would surprise many people who was actually doing the rapping on the choruses of the various songs on the first two albums. It was literally rock music and rap intermingled and I think that is one reason the first album in particular was so successful.
A second thing that is interesting is that both the songs that recently charted are from the first album, which was recorded and released in 1999. "Without You" was released as a single and actually charted in 1999, peaking at #20. Two years later in 2001, "Without You" started receiving radio airplay on a syndicated radio program at college radio and before anyone knew, over 200 college radio stations were playing the song. A few months later, commercial radio stations picked up the song and for the second time, it charted and peaked at #16. Then in June 2011, we released "Without You" and "If the Walls Could Talk" to commercial radio and not only does "Without You" become a hit single for the third time for Cutting Edge, but "If The Walls Could Talk" also becomes a hit song at the same time, and both songs are over 10 years old. Another interesting point is that while "Without You" was #1 at internet radio for 6 weeks and two of those weeks, "If The Walls Could Talk" was #2. I feel that a lot of it has to do with that both songs are unique in sound and fun.
Our song "Love Police" also did remarkable. "Love Police", also from the first album, was released in 1999 to commercial radio stations in the U.S. After three months the song peaked at #20 on the radio charts and as it started to move down the charts, we released a dance remix of the song by Ricky Ric and the song moved back up the chart to #21 and stayed there for another three months. Finally, in July, as the spins started to decrease, we released a third mix, this one by Guiseppe D. and the song went back up to #20 and peaked there until late October when we released a final mix, the original song minus guitars and with more keyboards. The song stayed inside the top 30 from February of 1999 until January of 2000. It never went higher than #20 and never dropped below #26, until when it finally dropped off the chart. The song charted almost a whole year. Funny, did we have one hit song or with the different mixes, did we have four hit songs. None of us know the answer to that question.
There is a story that has not been told and everyone feels that maybe now is the right time and that has to do with the song, "Losing You". David Pesnell and Liza Pesnell were married and Liza and William co-wrote songs for Cutting Edge and other recording artists. On top of that, William and David are very close friends. But what the band and their families kept secret for so long was that Liza was a cancer survivor, who had fought cancer for over 10 years. During the recording of the album "The Big 14 N' More", which was supposed to be released in 2003, Liza's cancer came back. The band decided to put the recording of the album on hold until she got better, but this time, she did not make it and passed away on March 11, 2004. About a year after her death, William and David decided to try to finish the album "The Big 14 N' More" and needed two more songs. One night, David decided to listen to a song Liza wrote about three days before she passed away, the song was called "Losing You". Liza had told David that she wanted him to listen to the song as it was for him, William and their family and friends, but both David and William were having a difficult time dealing with her death. It was a hard decision, but they decided to put the song on the album. They both worked together on the arrangements of the song, but when it came time to do the vocals, both David and William could not stay in the studio and did not come back until the guest studio vocalist they had brought in to do the song had finished. The song is so difficult for them that William has never listened to the song after it was mixed, and completed and David has only listened to it once or twice. The band has never performed the song live as they feel it would be too difficult. Everyone involved with the band, including Jeffrey Beals, (a former partner of William Morris) and Howard Rosen ( a radio promotions company) feel "Losing You" is a monster hit waiting to happen and are trying to encourage William and David to release it in January of 2012. You can listen to a track of this song at: http://soundcloud.com/cutting-edge-1/losing-you
Jimmy Rae: I see that there is a new album due out in September titled 'Cutting Edge Goes Back To College'. Care to tell us more about the new record and what can we expect to hear?
Cutting Edge: You can expect to hear rock and rap meets dance, ballads and pop. "Venomous Love Affair" is a good alternative rock song, but we have a live track called "Every Time I Try" on the song, plus we added a live version of "Love Police" and some dance remixes. Trying to have something for everyone. The album was shipped to college radio stations last week and we will know next Tuesday or Wednesday how we are looking. Crossing the fingers. The album also has an anti-war song called "She Wore Red" that several radio promoters and radio music directors are trying to get us to release.
"She Wore Red" can be listened to at: http://soundcloud.com/cutting-edge-1/she-wore-red and "Venomous Love Affair" can be listened to at: http://soundcloud.com/cutting-edge-1/venomous-love-affair
Jimmy Rae: I heard that you're hoping to book a concert tour next spring and wondering if there are any set dates/venues yet? If not what are the proposed plans thus far?
Cutting Edge: We probably won't start booking the tour until January with the tour to start in April. We want to see the results of the college album and also we are releasing "Venomous Love Affair" to commercial rock stations and possibly the song "Your Love Is My Oxygen" to Top/CHR and AC commercial radio. So based upon these release, they will dictate what size venue we do want to do a concert tour in.
Jimmy Rae: Anything else you'd like to share? Here's your chance!
Cutting Edge: We are looking for a booking agent at this time to help us book the tour for next year. One of the advantages for a booking agent to work with Cutting Edge is that the band is willing to co-promote some of the concert dates as we have the funds to do so. Further, the band is even considering promoting the concert tour themselves and may need someone to just find the concert facilities and line up the tour and the band will cover the cost. Also, looking for ad agency that has had experience in handling advertising for a concert tour to work with the radio stations and media for the concert tour.
The band has just signed a new distribution deal with 101 Distribution and the album or singles can be purchased at: http://101distribution.com/music/Cutting-Edge-Goes-To-College.
Cutting Edge owns their own record label, Thunder Quest Records and has already built it up with an office in Phoenix, AZ and one in Tokyo, Japan. The band also owns their own publishing company but is now beginning to look for a solid publishing company to represent the band and the songwriters.
You definitely want to go check out Cutting Edge right now!   This band proves to be stiff competition within the music world and I don't see them slowing down anytime soon.   Here are some additional sites where you can find out more exciting info on Cutting Edge: www.cuttingedge-band.com, www.thunderquestrecords.com and www.youtube.com/cuttingedgerockband.  
ENJOY!
By Jimmy Rae (jrae@skopemag.com)