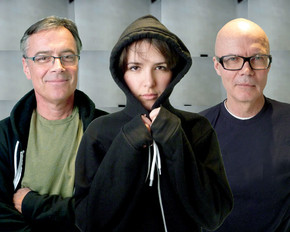 THREE METRE DAY is an acoustic modern roots trio created by players Hugh Marsh, Don Rooke and Michelle Willis. The sound of the band features original songs sung in combination with old instruments, forming a strong, intimate and identifiable texture. The parts are so interwoven it's hard to distinguish one instrument from another. Michelle sings and plays portable pump organ, Don slide guitars, and Hugh, violin.
Starting with a basis in folk music, the band draws on its years of experience playing in a variety of settings including jazz (Don Byron, Jon Hassell), alternative (Mary Margaret O'Hara), folk (Bruce Cockburn, Loreena McKennitt) and modern roots (The Henrys), to forge something distinctly their own.
THREE METRE DAY'S debut full-length album Coasting Notes, which also features Davide DiRenzo (drums) and David Piltch (acoustic bass), will be released in Canada October 4th, and in the U.S. November 1st in CD and Digital formats through the band's own label imprint, 3MD.
THREE METRE DAY'S NEW SONG "STAY THAT WAY":