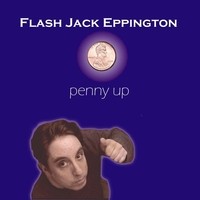 Over the years we've seen rock & hard rock slowly erode into over-commercialized, corporate puppet shows providing music that is extremely sing songy, predictable, popish & highly corporate. I hereby call this new breed of music "Poser Rock" & I want to personally thank all the corporate giants for successfully transforming "Sex Drugs & Rock n Roll" into "Yoga, Vitamins, & Nikelback" Of course millions of musical lemmings don't know the difference, but not everyone is amused. Talking to many music fans out there the response is overwhelming. Give me something new, something raw, something that's pushes the envelope with a fresh sound that doesn't sound like Nikelback, Daughtry or Lifehouse.
So across my desk slides the new CD by Boston's own Flash Jack Eppington. What I heard put a smile on my face.   This latest CD entitled Penny Up & it is clearly the opposite of all the stuff mentioned above. It's a nice easy flowing record that delivers solid songwriting with a no holes barred indie rock delivery that just feels comfortable & is a blast to listen to. Eppington reminds me of classic Jack Black or Pixies, Toadies, Pouges & even Bob Dylan — definitely fun, inviting, raw with a underground Boston vibe. Not the most polished sounding record I've ever heard but perhaps that's what Eppington was shooting for. To capture that raw indie sound that captures live energy. One suggestion – perhaps more rehearsal time is needed before going into the studio next time. Either way you look at it — the artist has potential & should be considered a diamond in the rough. He should keep headed down this path to reach his full potential one day. Despite these issues Penny Up it needs to be said — this CD is still better than any Nikelback or Daughtry CD I ever heard.
Flash Jack Eppington is a solid release with rocking grooves with a fresh Bostonian guitar driven sound that hits you right between the eyes but will entertain you, make you laugh & cry all at the same time. There is a wide range of emotional depth displayed here. If I had to find one paraphrase that describes Eppington it would be — the genuine article. It's a record that gives us a fresh glimpse at a new artist & takes us back a few years — before everything started sounding like — well Nikelback.
Michael Morrison
[Rating: 3/5]