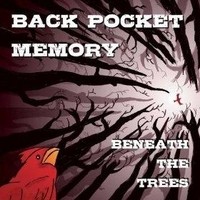 Chances are you won't be forgetting Back Pocket Memory and their new release 'Beneath The Trees' anytime soon.   The idea behind the band name actually came from lead singer Chris Pennington who said "it's about a memory that sticks with you so long that it's there whenever you need it".   This brand new EP only features five tracks but they will all be stored in your memory bank for quite some time; I guarantee it.  
The remaining members of Back Pocket Memory include: Ian Felchlin on guitars & backing vocals, Rob Gallagher on bass & backing vocals and Jason Montgomery on drums & percussion.   'Beneath The Trees' offers the best of both worlds with Rock colliding with Pop.   You also get an alternative edge coming from the LA-based band which gives off a cool 'n' fresh vibe.   Right from the beginning on the opener "Illustrated Girl" I'm hearing a fun, Rock 'em, Sock 'em, Pop 'em sound that hooks me right in.   I'm hook, line and sinker so reel me in 'Beneath The Trees' because I'm likin' what I'm hearin'!   As the recording spins along I can't help but notice the energy being given off by Back Pocket Memory's overall   performance.   Their intensity is off the charts and as a listener you truly get to experience this firsthand.   Don Henley once sang "All She Wants To Do Is Dance" and all BPM wants to do is PLAY!   This band plays their hearts out on this EP as you get some real nice Rock riffs to go along with some Pop goodness.  
I'm very excited after hearing 'Beneath The Trees' and now I can't wait to see what Back Pocket Memory come out with next!   The five songs are just the beginning I feel and now I look for BPM to close the show in style.   These California Alt/Pop Rockers bring the power & might and mix it all together to make up one appealing sound.   The material at hand can definitely attract the masses and hopefully will breath new, invigorating life into the mainstream music scene.
By Jimmy Rae (jrae@skopemag.com)
[Rating: 4.5/5]