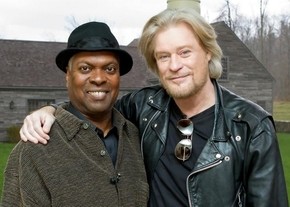 Philadelphia soul meets the Memphis blues again when legendary Hammond B-3 keyboardist Booker T. Jones jams with Daryl Hall on the second half of a very special Live From Daryl's House, premiering July 15 exclusively at www.lfdh.com. In June, Daryl and Booker T. were joined by R&B breakthrough artist Mayer Hawthorne, while this month's 44th installment of the Webby and MTV O Music award-winning Internet series, which last year made its broadcast debut on WGN America to impressive ratings, will feature Hall and Jones performing some of their most memorable songs.
http://lfdh.com
 
The Memphis-born Booker T. Jones was honored with induction into the Rock and Roll Hall of Fame and a Grammy lifetime achievement award for his genre-defining Hammond B-3 organ work with the renowned Stax Records group Booker T and the MGs alongside guitarist Steve Cropper, bassist Donald "Duck" Dun and Al Jackson Jr. His new solo album, The Road from Memphis, which was released in May on Anti- Records, features cameos by Lou Reed, My Morning Jacket's Jim James and Sharon Jones. The L.A. Times said, "Jones makes a quietly convincing case that when it comes to soul music, all roads do seem to lead to Memphis." Booker T., who has collaborated with a who's-who of popular music greats, including Ray Charles, Otis Redding, Bill Withers, Rufus Thomas, Carla Thomas, Neil Young, Stephen Stills and Willie Nelson, among many others, had a blast playing with Daryl on the show.
"One of the nicest things about performing on Live from Daryl's House is that Daryl has surrounded himself with musicians who can 'hear,'" enthused Booker T.   "That is, each one has talent to the extent of being capable of performing as a soloist on his own, not needing to be told the proper notes to sing or play."
Daryl and his guest performed a six-song set which included the Booker T. and the MGs classic "Green Onions" and "Down In Memphis," from his new album, as well as such Stax hits as "Born Under a Bad Sign," recorded by Albert King and co-written by Booker T. and William Bell; Eddie Floyd's "I've Never Found a Girl (To Love Me Like You Do)" and William Bell's "Everyday Will Be Like a Holiday." The set concludes with a rousing version of Daryl Hall and John Oates classic, "I Can't Go for That (No Can Do.)."
Says Daryl: "I grew up listening to Booker T. and the MGs. It's an absolute privilege to have him on the show and be able to play alongside him. It doesn't get more soulful than that."
"I love the 'at home' atmosphere of performing on the show," added Booker T. "Daryl's immediate and extended family stay near and furnish his guests with food, warmth and an audience."
 
The past two years have marked a steady stream of superlatives and recognition for Live from Daryl's House, with Hall receiving a Webby Award for Best Variety series from more than 10,000 entries at the 14 annual ceremony last year at N.Y.'s Cipriani Wall Street before garnering an O Music Award from MTV earlier this year.
The 43 previous episodes of Live From Daryl's House have featured a mix of well-known performers Rob Thomas, Train, Smokey Robinson, The Doors' Robby Krieger and Ray Manzarek, Toots Hibbert, Nick Lowe, K.T. Tunstall, Todd Rundgren, Travie McCoy, Dave Stewart, Goo Goo Dolls' John Rzeznik and Fall Out Boy's Patrick Stump along with newcomers such as Mayer Hawthorne, Eric Hutchinson, Chromeo, Cash Money rocker Kevin Rudolf, Matt Nathanson, Parachute, Plain White T's, Eli "Paperboy" Reed, soul diva Sharon Jones, Diane Birch, L.A. neo-R&B party band Fitz & the Tantrums, hot new alternative band Neon Trees and veteran alternative mainstays Guster.
Daryl launched the free monthly web series in November, 2007, after having the light-bulb idea of "playing with my friends and putting it up on the Internet," and the show has since garnered acclaim from Rolling Stone, SPIN, Daily Variety, CNN, BBC, Yahoo! Music and influential blogger Bob Lefsetz, who have cited Live From Daryl's House as a perfect example of a veteran artist reinventing himself in the digital age by collaborating with both established and newer performers. The show marked its broadcast debut New Year's Eve on Superstation WGN America, where it improved ratings for the time period by almost 75%.
Daryl also recently performed a live version of the show with friend and former LFDH guest, Todd Rundgren, to a sold out venue in Atlantic City.
For a photo of Daryl Hall and Booker T from the taping, please click the link below:
High Res – SKOPE IT HERE!
     
Low Res – SKOPE IT HERE!
Photo credit: Mark Maglio