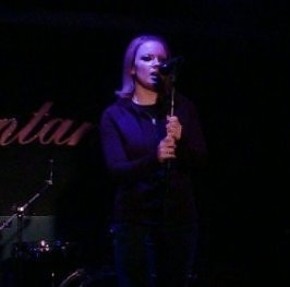 I woke this morning to hear that the NFL is back on. That is great news for sure, but when will the US government figure out their own debt ceiling issues. I wish I could have my own debt ceiling. I would be writing this column from a Learjet enroute to Los Angeles or Miami. Oh well maybe one day but for now I have a musician that I am really excited about. Coming out of the Tri-State area is Julie Weiss. I heard Julie's single "New" and I was intrigued by her vocals and beats selection. I decided to have her on so others could catch on to her as well. Join us as Julie talks about everything from where she went to school, releasing singles vs albums, winning awards, and much more!
Stoli: Where are we talking from today and are you excited that summer is here?
Julie Weiss: I'm looking out at marshlands while I eat my lunch inside (with much-appreciated air conditioning). I am excited about summer and sunshine, though. I'm also happy not to be shoveling feet of snow every morning!
Stoli: Do you have a favorite spot outside to go play music like the beach, park, etc?
Julie Weiss: I don't really play music outside. I like to have my keyboard handy and my laptop in case I need to put down a few tracks or experiment with sounds.   I'm also worried (maybe too worried) about bothering people in public.   If I have an idea when I'm out, I will try to capture it on my phone.
Stoli: You attended Monmouth U with a degree in Music Industry. How much has that experience helped you with your music career and would you recommend to others?
Julie Weiss: I thought it was a well-rounded program that gave me a good foundation, whether or not I ultimately decided to pursue music or music industry. The experience helped me get started with my music career. I would definitely recommend it!
Stoli: You recently released your single, "New". What is that song about and when did you write it?
Julie Weiss: I wrote "New" in 2007 but actually finished the recording and production in 2010. It's about being really into someone and the excitement of thinking about and being with that person.
Stoli: You like to put out singles instead of full albums which I see as the future. When did you decide that was the way to go?
Julie Weiss: Initially my recording/production budget decided that for me. It turned out pretty well because I enjoy putting out singles. It gives me the opportunity to share each song as soon as it's "ready".   I would also love to have a full album to offer in the future.
Listen To Julie Weiss: http://www.julieweiss.net/listen.html
Stoli: How much time per week do you put into marketing & creating your music and how do you juggle a day job as well?
Julie Weiss: Oh, never enough… There's never enough time! It gets difficult to work full time and to find not only the time but also the energy to work on music and marketing. That's always been one of my biggest challenges.
Stoli: Living in the NY / New Jersey area what are some venues you like to play and go to hear music?
Julie Weiss: Being rather electronic-based and virtually band-less at the moment, I haven't been performing live.   I've enjoyed shows at area venues such as the Izod Center in East Rutherford, House of Blues in Atlantic City, and a lot of cool venues in New York City including the Highline Ballroom, Terminal 5, Rockwood Music Hall, Fontanas, Arlene's Grocery, The Living Room, Pete's Candy Store and many more!
Stoli: Would you like to have a family one day and will you still play music as well?
Julie Weiss: Yes! I definitely plan on continuing music. I'm sure it'll be harder to find time and energy, but we'll see! It may be just what I need.
Stoli: What is your most personal and revealing song to date?
Julie Weiss: My most personal song might be "Tonight". There aren't many lyrics to it, but I feel like people might think they know what it's about (for example, a relationship or perhaps something religious) but that's not it.
Stoli: You are no stranger for awards in very prestigious competitions like Billboard World Song Contest & UK Songwriting Contest. How does that feel when you get recognized like this?
Julie Weiss: It's really cool to know you've been selected as one of the top choices out of so many. I'm honored to be recognized and always surprised!
Stoli: What world issue facing women today is of most concern to you & why?
Julie Weiss: Women's health and healthcare in general are very important to me. This is for personal reasons and because I hope for others to have the opportunity to be healthy and happy.  
Stoli: What is coming up for Julie Weiss and where you online?
Julie Weiss: I have a few new songs I'm working on that I am excited about! You can find me online on my website (www.julieweiss.net), facebook, iTunes Ping, Ourstage, Reverbnation, a little bit of twitter and a splash of MySpace.
Contact: info@julieweiss.net