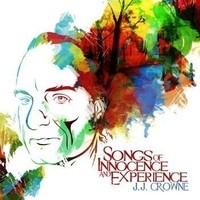 Get ready for South Florida's own J.J. Crowne as he blows your mind with his debut album 'Songs Of Innocence And Experience'.   This record is not your ordinary, average debut release by any means due to many factors.   First, Crowne has been involved with music professionally since the age of 16 so he's no stranger to the game.   Plus, J.J. got the ball rolling early on by becoming a producer/composer of radio jingles, theatrical music & TV themes for Fox, PBS and Univision among others.   This man-of-many-talents has written for and performed with many bands over the years and he even was a regular opener for The Mavericks back in the day.   Billboard Magazine & The Miami Herald have recognized Crowne's songwriting ability and J.J. was recently amongst Nashville's finest songwriters at the Key Largo Original Music Festival.   This guy even used to open for Marilyn Manson for cryin' out loud; no joke!   I guess what I'm tryin' to say is that this album is a far cry from just a regular debut release because J.J. definitely ain't no first-timer!
[youtube -NtPwCC6xRU nolink]
This Sunshine State musician also proves to be a one-man band literally!   Mr. Crowne wrote and performed all 12 songs and even produced & arranged the entire recording.   He handles all vocals and plays guitars, bass, keyboards and other instruments as well.   The only other individual involved with this project was J.J.'s mixing & mastering engineer, Rick Pantoja.   As the master of his own domain, 'Songs Of Innocence And Experience' is J.J. Crowne's baby all the way!
The album title is more than fitting because this Florida-based singer/songwriter obviously has the Experience and the material is definitely of an Innocent nature.   The whole record is primarily in the realm of Adult Contemporary with elements of pop, rock, country and jazz thrown in here & there.   This 12-track recording was an enjoyable listen all the way through because of its laid-back & relaxed demeanor.   Very easy-going and well written/well-played songs here by J.J. Crowne that can relate to many people.   I can't say enough about Crowne's musical approach and his heavy emphasis on the art of storytelling.   You really sense a true meaning & purpose behind every single note & lyric and that is special.   J.J. allows the listener to get in touch with the inner artist through his personal touch.   Musically, lyrically, vocally, artistically and even spiritually–I was in tune with it all!   All original compositions and one creative-to-the-bone & diverse musician makes for instant success!
JJ Crowne "I Can Be The Wind" MP3:
'Songs Of Innocence And Experience' starts up with a song titled "Only Time" that displays wonderful harmony and just an overall good feel.   This nice harmonizing remained in place for much of the album and was one factor that stood out as exceptionally strong to me.   Rolling along into "Another Day Of Love" you hear Crowne's distinct voice deliver a memorable performance.   You'll hear pleasant melodies, excellent musicianship, well-thoughtout lyrics and much, much more on J.J.'s new release.   On track 10 "I Can Be The Wind" J.J. is just that as a warm & calm breeze will glide right past your ear drums.   All the blood, sweat and tears that J.J. Crowne poured into this project easily paid off because I would highly recommend 'Songs Of Innocence And Experience' to ANYONE!
When making this album J.J. was majorly inspired & influenced by one of the best bands ever and you may have heard of them–The Beatles.   Other heavy influences for Crowne include: The Eagles, Crosby, Stills, Nash & Young, Brian Wilson of The Beach Boys, Steely Dan and Tom Scholz of Boston just to name a few.   J.J. Crowne is a real-deal music man that has a lot to offer and I am proud to say I am a fan of his now.  
Songs from the album are already being featured on radio stations all over the world such as: NYC, Washington, the Florida Keys, Belgium, Switzerland, Finland and the United Kingdom.   There is also an online presence in place already for J.J.'s music in spots like: our very own www.skopemag.com, www.iheartradio.com, www.jango.com and coming soon to www.radiocrystalblue.net.   The full album can be purchased at:   http://itunes.apple.com/us/artist/j-j-crowne/id445090531?ign-mpt=uo%3D4.   Here are some other sites worth checking out: http://www.reverbnation.com/jjcrowne, http://www.facebook.com/JJCrowne & http://www.myspace.com/jjcrownemusic .   Get ready as J.J. Crowne takes the world by storm with his new album 'Songs Of Innocence And Experience'!  
By Jimmy Rae + (jrae@skopemag.com)
[Rating: 5/5]