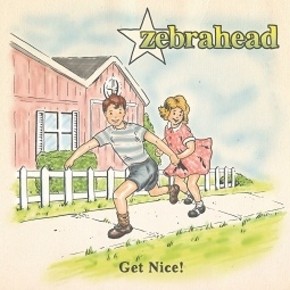 La Habra, CA's zebrahead are gearing up to unleash a new offering of explosive   pop-punk, 'Get Nice,' on September 27th (and in Europe and Japan in late August).   And although this is the group's 11th release overall, it will be their first to be released via the Niji Entertainment Group for North and South America.  
The album's release may still be a ways off, but two videos have already been filmed (one for the title track and one for the song "Ricky Bobby"), both of which can be viewed via these links:
[youtube HEWVzSFOrik nolink] [youtube HmnJteMw7lo nolink]
zebrahead is comprised of vocalist/rapper Ali Tabatabaee, vocalist/guitarist Matty Lewis, guitarist Greg Bergdorf, bassist Ben Osmundson, and drummer Ed Udhus, and has been rocking since 1996.   In the process, zebrahead has sold 1.5 million copies of their albums (800,000 in the USA alone), and even received a Grammy nomination.   Additionally, zebrahead has toured around the world since 1996, both headlining clubs and festivals, including the Vans Warped Tour and opening for bands like Green Day and 311.