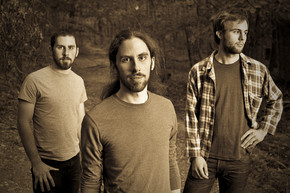 Philadelphia-based power trio The Revere released their latest music endeavor, "Ashia," on June 14, 2011, and its available exclusively via Amazon.com.  
"Ashia" was recorded at both Shorefire Studios in New Jersey and at the home studio of mixer Dave Pittenger (Allison Weiss, Julia Price, Martin Rivas), and was produced by Jason Spiewak (Benjy Davis Project, Pat McGee, Chris Volz).   Says Spiewak:   "We are excited to reach all of those who downloaded the band's first album, 'The Great City,' thru Amazon.   The band's sound has become more defined and gelled — with this collection of tunes, I think they've arrived."
"The Captor" Stream:
The band feels similarly, with guitarist/vocalist Sean Kelly saying, "We do feel that we have sharpened our sound with 'Ashia,' but we have so much left to say! This release has helped us discover a clearer vision for the direction of our music. At this point, we have realized what we want to do conceptually but we are always exploring new musical ideas. We are very excited about the songs and the sounds on 'Ashia,' but we are continuing to improve and build upon what we've already done." Rounding out the trio are Kelly's brother Pat (drums) and Michael Pearson (bass):   all three studied at Temple University in Philadelphia.