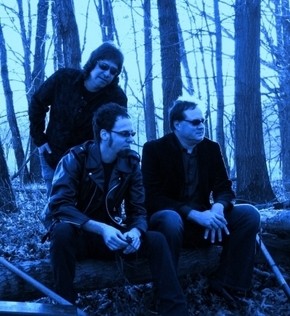 The melding of blues and rock is almost as storied as either of the genres on their own merit. The Yardbirds did it. The Rolling Stones did it. And even more contemporarily, The White Stripes did it deconstruction style. It seems the two almost walk hand-in-hand. For the Chicago-based trio, Jealous Bone, the genre mash-up seems (and sounds) as effortless as with those who came before them, but they have also been crafting a sound for more than two decades in the industry.
"I listened to all kinds of music growing up and learned early not to get stuck in one thing," said guitarist Damir Shegich. "My dad is Croatian so my first musical influences weren't even English–they didn't play in English."
"When I've studied with any drum instructor they'll tell you to be open-minded so I just listened to all sorts of stuff," drummer Fred DiSanto continued. "And eventually you begin to form your own sound. Even if you're into rock, you add different things to what you're doing and I just think that helps any musician."
Purchase 'I Ain't Superstitious': http://www.cdbaby.com/cd/jealousbone
When the myriad of influences (including those of lead singer/bassist Luca DiNicola) were matched with the collaborative nature of the group, it created a signature sound that encompasses the blues sentiment of Buddy Guy and the classic rock ethos of Cheap Trick. But it is that collaborative nature that perhaps serves them best, as evidenced in their songwriting.
"Really we just practice and when we start playing Luca will usually start singing something and we just go from there," Fred said. "But it can start with a guitar riff, I'll play a drum groove or Luca will lay down a bass line… you never really know with us; it's anything goes and when it starts working we just look around at one another and say: 'This is pretty cool, don't stop.'"
However missing from the group is long-time bassist, Joe Fittipaldi, leaving Luca to assume bass duties. When asked how missing the extra set of hands affected the group, Damir replied: "Well, it kind of did and it kind of didn't. I don't know that it affected the recording of the new album but it certainly affected the songwriting without having that extra member. It certainly pushed us in a different direction that we weren't used to, like Luca was always our singer but would occasionally play some extra guitar. And he was generous enough and such a team player where he said: 'Well, let me play bass.' It took awhile to rehearse that being a three-piece now but we were able to get things in order that way."
The recent result of the now trio's sound is 2010s I Ain't Superstitious–11-tracks of their trademark heavy-hitting rock laced with bluesy overtones. Damir switched guitars this time out to "achieve more of a rock sound with a blues influence" as apparent on the album opener "Rain On My Parade." It's an agro rocker with wah pedal effects and a ubiquitous soaring midpoint solo. The down-tempo "It Ain't Happening" opens to wail blues guitar before giving to riff work over Luca's desperate vocal delivery of lost love lyrics. "I Know What I'm Talking About" opens to honky stomp guitar work reminiscent of Stevie Ray over Fred's booming percussion foundation. Luca's vocals and bass line shine just behind Damir's hallmark technically tight guitar work. Perhaps most blues-laden is "In The Mood." The stripped-down blues riff carries the song along with intermittent fills through to another soaring midpoint solo. Though down a man on Superstitious the tracks sound full and for a three-piece, these guys generate a lot of music.
"We're sort of a new three piece and it's taken a lot of rehearsing to get us to where we're comfortable with that," Fred said in closing. "But we're already writing for the next album and we just really enjoy writing, recording and playing and it really isn't anything more than that."
by Chris West – cwest@skopemagazine.com