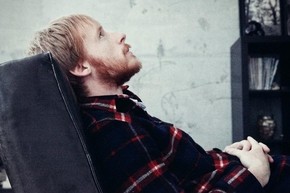 Razor & Tie is excited to announce the signing of Brooklyn based singer-songwriter Kevin Devine.   His new full length album, Between the Concrete & Clouds, will be released September 13, 2011 via Razor & Tie / Favorite Gentlemen.   Devine will head out this fall on a headlining tour with The Features as direct support on its first leg.   The tour will kick off on September 6th in Pittsburgh, PA at Club AE and make stops nationwide, concluding in Upland, CA at The Wire.          
"Concrete And Clouds" MP3:
Between The Concrete & Clouds is a record full of firsts for Devine, both sonically and technically.   Perhaps best known for his solo acoustic musings, this is the first record he's made that is fully backed by a band.   After settling back home in Brooklyn after being on tour for most of 2009 and '10, Devine spent time in his rehearsal space playing around with ideas on his own, bringing shape to the songs by recording them as acoustic demos, something he hasn't done since high school.